Navigating using paper maps compared with google maps and openstreetmaps.
In order to work out the practicality of google maps on a dedicated android smartphone, we needed to do it for some months.Our 2015 test rides in India, Japan and Europe we relied entirely on this system navigation. By selecting the bicycle mode option the 'blue line' route, every day, took us on paths and tracks that we would never have seen.
After one particular day's ride we purchased a paper map on the 1:150,000 scale just to see how it would have handled a few sections of the day's ride.
The google site says they have got 51 countries mapped but there are many that they don't list where their maps are excellent. Belgium is one of those. On a 65km ride from the French border city of Tourcoing to Brugge in Belgiun, we set up the route on our Galaxy S5, choosing the option through Roeselare. The "blue line" on the screen led us through country lanes where we could stop and chat with the horses, admire the cattle and sheep and be impressed by the crops of cabbages, carrots and of course, brussels sprouts. As you follow these lanes you can't help but think how lost you'd be without a laid down route. It was cloudy so there was no sun to get a bearing from. And it is flat so there are no landmarks. As every small intersection approached, a simple press/swipe/press on the S5, in under 5 seconds, showed the current location, the coming intersection and the route to take through it.
There is an option to activate voice instructions…"in 50 meters, turn left" etc, but we don't bother. It probably also drains the battery faster. It is interesting to do it occasionally but, to be honest, it's a bit too "daycare" for most tourers anf you just do it for fun ocassionally.
Back to the ride to Brugge. When the paper map was purchased we looked for a section that google had handled nicely with a series of quite narrow but sealed lanes inbetween two major roads and over a trainline. We chose this section as the one to compare. It seemed very unlikely that a paper map could have that amount of detail. The one we had bought was 1:150,000 (1cm=1.5km). Tourcoing was on the bottom of the map and Brugge was on the top. On the map there was 36cm from the start point to the end point of the day's ride.
It is not uncommon to cover 150km in a day, so this 65km ride was short yet only just fitted onto one map at this scale. In Europe you could need 4 maps on this scale to cover a single day. What would we do with the used maps? But, as you can see below, even at 1:150,000, a paper map in densely settled territory does not show all of the roads and the ones missing may be the very ones you want to know about.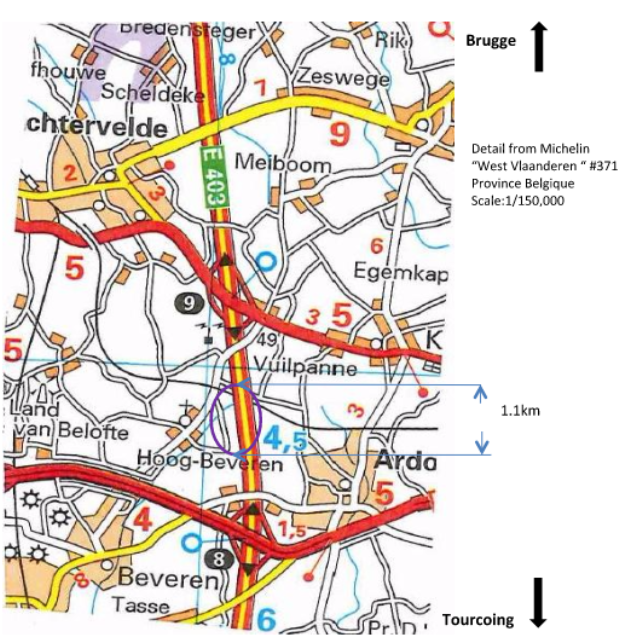 With a paper map, as you look more closely new higher resolution detail does not appear. But on google maps it does, making it dynamic. Using the tips of your fingers you pinch it together or apart, as you ride, to zoom in or out. As you zoom in roads or paths that were not visible now become visible. In the lower right corner is a scale bar showing its length. On the S5 the bar only appears after the zoom level has been changed and then only for a few seconds. The first example from google below is of the area highlighted above on the Michelin map. Many of the roads and paths at this level do not even appear on the Michelin map. In particular, a path that crosses under the E 403 and over a railway line.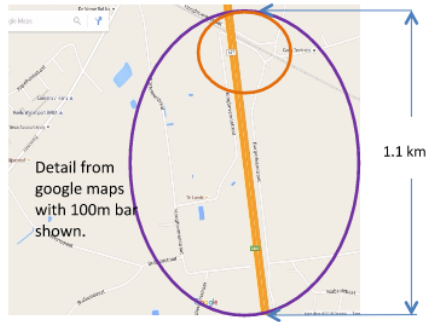 For 30 days, this smartphone will store a map, in the level of detail we had on the screen when we were on-line. Then it drops out of memory and we'd need to get it back if we wanted it later. We were staying in places that gave us Wi-Fi so mapping only one day in advance was fine. This is good as it allows flexibility in route planning so we take more current and local things into account. Most obviously, the weather.
When using google maps these are the steps we take when on-line:
dentify on the device the current location and the destination, preferably the intended accommodation.
Using 'directions' and selecting bicycle as mode bring up the blue line of the route. If more than one option is shown, possibly do a bit of research and choose one of the routes.
Zoom in at the start to the level where 50m is shown on the scale. Now slowly move along the entire route at this level of zoom. It takes a minute or two and we now have a map cache in good detail along the route.
Zoom out to the 1km level and repeat.
In case we lose the blue line during the ride (see below), we'd handwrite a few notes to show the towns you go through or past, and the locations of major road crossings and bridges.
It is a unintended characteristic of the line that all bits of the route are made to look similar and even 'unmissable'. However this is far from the reality. A corner may be from a sealed road onto a track between two fields. Not in this example but you soon learn to rely more on the line and the gps current location than on the look of the roads and paths you are riding on.
You can become a bit overconfident with this system however. It works superbly until it does not. Then you have a problem. What if the blue line just disappears. If the smartphone is being used as a phone and/or camera, this is more likely to happen. If you press the gps locator button hard it can happen. Probably some other random things will do it.
Mostly during a day's ride we do not have wi-fi. But, if we need it we might be able to get it. In a hotel foyer for example. Ask nicely and its normal to be allowed to get on-line at least briefly.
The question being begged is 'why not save the google map' with the route on it?'. It sounds simple but it is not. Before proceeding to openstreetmaps, we can say that a dedicated android smartphone, with occasional wi-fi and a small compass, will in vast areas of the globe, be a superb cycle touring guide. As long as you could get on line and as long as you don't lose the blue line. Note we have not done this research on an iPhone. That might also work well.
Openstreetmaps
OSM has been described as the Wikipedia of the map world. It is huge, high quality and free.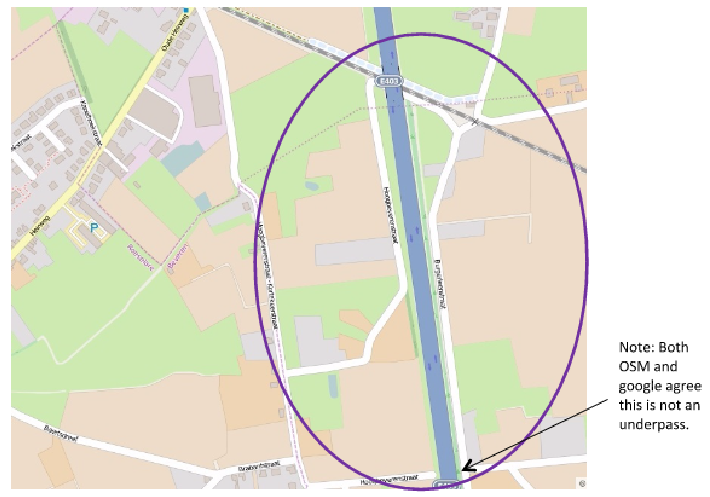 Using the above example, having zoomed in on OSM to the same degree, we get an impressive map as below.
Beside google maps, particularly notable is openstreetmaps (OSM).