A car would not get registered if it was just a chassis, engine, brakes, steering wheel and seat. A bicycle is also better when features related to the intended use are integrated into it. These are not "afterthoughts". They are planned and specially selected, based on decades of experience.
The below touring bike features come standard on every Vivente bike in 2023.
Lights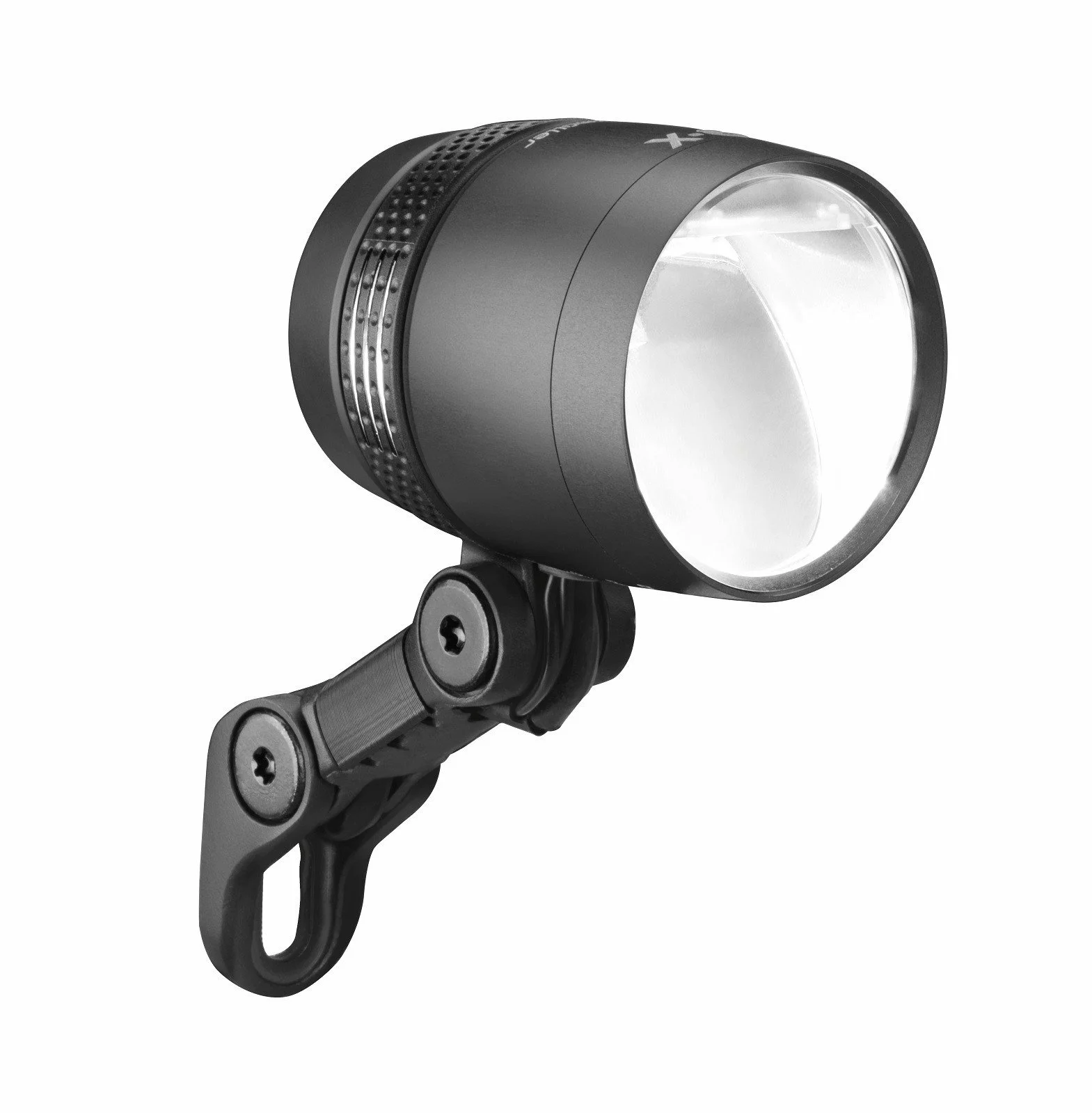 Bush & Muller makes the 100 lux IQ-X headlight. It has the common high-end features such as stand light., day-time-running, sensor, double-pivot bracket, and a beam that floods the road without blinding the on comer. This level of light brightness is unprecedented for dynamo lights. If it is a totally dark night with no streetlights, you will really appreciate this.
This is paired with B&M taillight, connected through a housed rear light cable.
Mudguards (Fenders)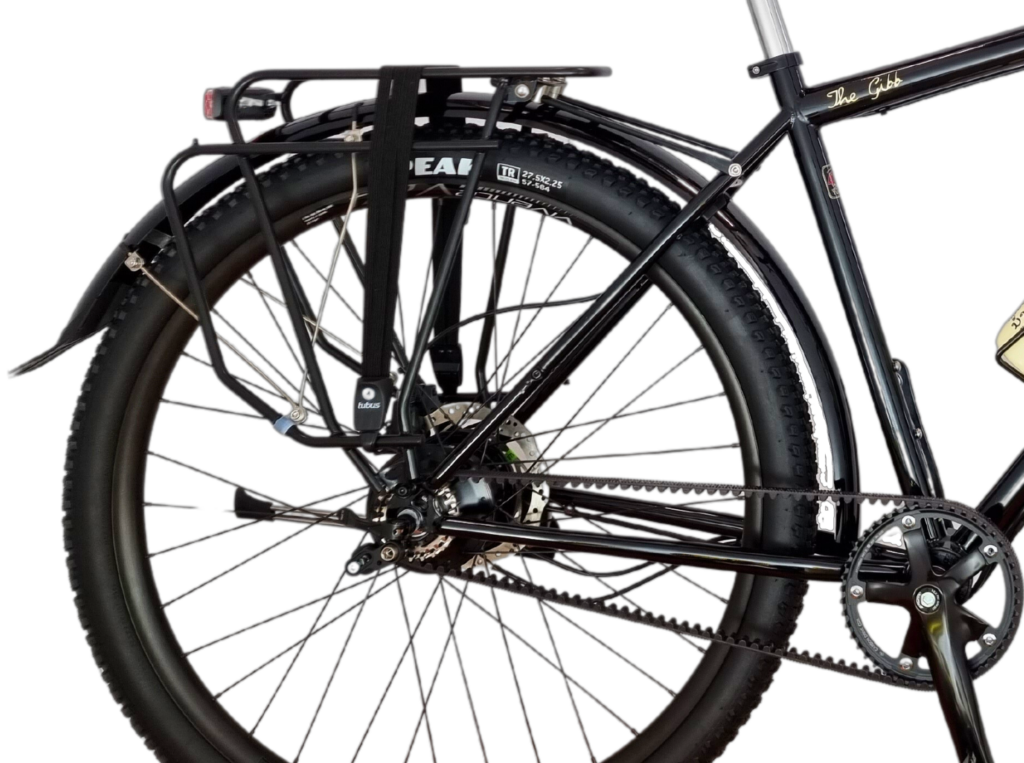 We often cycle with a friend and occasionally the road or path is wet. Mudguards (or fenders) are not just to stop water and mud streaking up your own back. They are to stop us spraying the person riding behind. It is simple etiquette to have a full-length rear mudguard for the sake of other cyclists.
Durability is the challenge with mudguards. They need to be very securely mounted or they will soon start shaking to bits or coming adrift. Because some guards are sold 'after-market' to be fitted to a wide range of bikes they have more plastic and adjustability. The best ones have stainless steel eyebolts and stays designed to suit the actual bike they are fitted to.
Clearance (distance from the tyres) is important. If there is not much clearance, things can get picked up and stuck, causing damage.
We use 46mm guards on bikes with regular road-touring tyres. But if you want bigger tyres, the bike is fitted with 60mm wide guards.
Mirror

The best way to demonstrate how good it is to have a good mirror is to ride a bike with one and then remove it. You just feel awkward and vulnerable.
Strangely, people would not drive a car without a rear view mirror but almost no bikes come fitted with one.
Vivente has test-ridden various mirrors and have found the German made Busch & Muller to be superior. 80mm has been found to be better than 60mm. Flat is better than convex.
Swabia, and riser bar versions of Gibb, mounting in the handlebar end is best.
For trekking bars, a clamp mounting is good. But also possible is a "Rivnut". The bikes come with the clamp version, but you can get the Rivnut fitted if you want. A Rivnut is like a water-bottle mount. It is a threaded hole and, once you have your preferred position, it can replace the clamp, as shown in the image above.
Bell and Horn
6" bugle horn with bracket.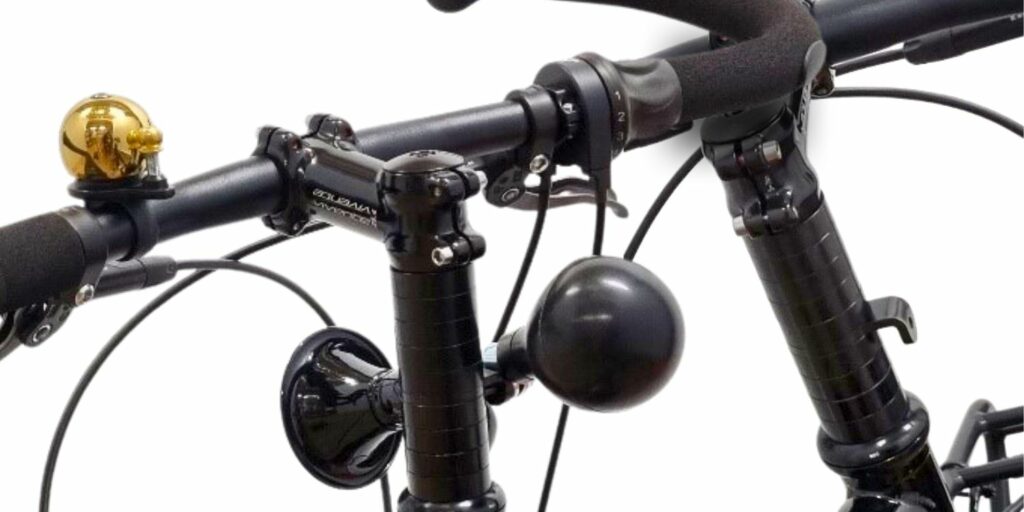 We don't know where you will go on your new bike, but it might be in the world where animals and people are on the road ahead and you want to indicate that you are coming through. A bell is a bit weak in many cases.
Or you want to call out to people. Shepards and other rural workers.
Admittedly, you won't see a bugle horn on other high-end bikes in the marketplace. But, in some parts of the world it is a great thing to have. We think it is best to have the bike designer address this and, on a World Randonneur, it comes standard.
In the Owner's Box there is a bracket that fits anywhere in the spacer stack below the handlebar stem. Just remove the 5mm spacer and put this bracket where you like.
It fits well just below the handlebar bag.
You can use the bell to warn pedestrians on bike paths but in some parts of the world, noise is a key part of moving along.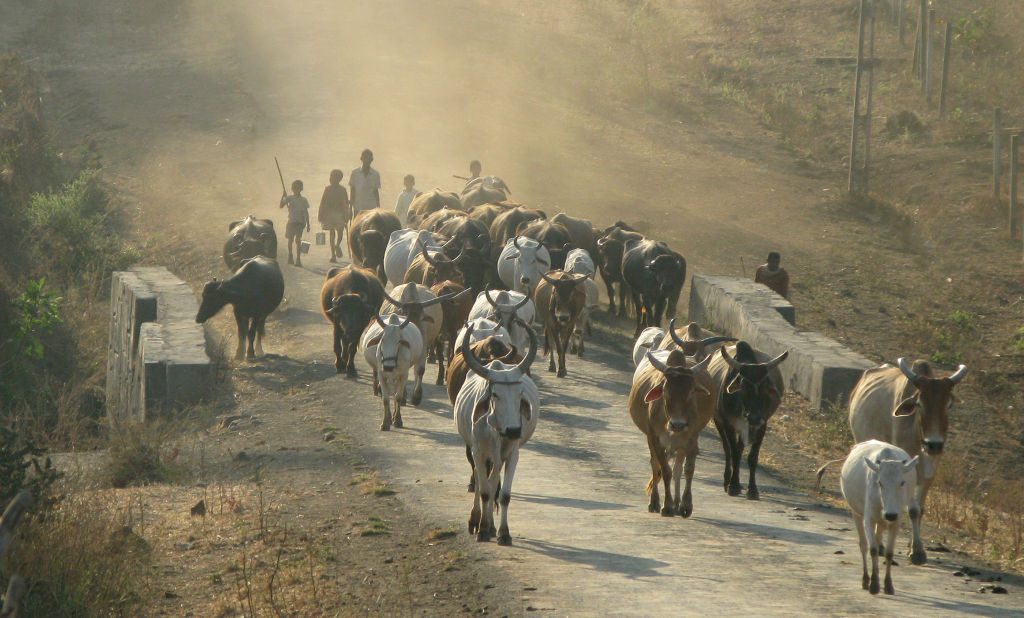 Kickstand
Who wants to lay their bike down with luggage on it? Or turn up in a town square for a cup of coffee and try leaning their bike against a shopfront. You'll soon appreciate the need for a stand.
A kickstand is a great accessory to have. But it needs to be designed into the bike. It should be located on the non-drive side and near the rear wheel axle. Bikes with short chainstays (under 450mm) can't fit stands here as many riders' left heel would clip them.
Tools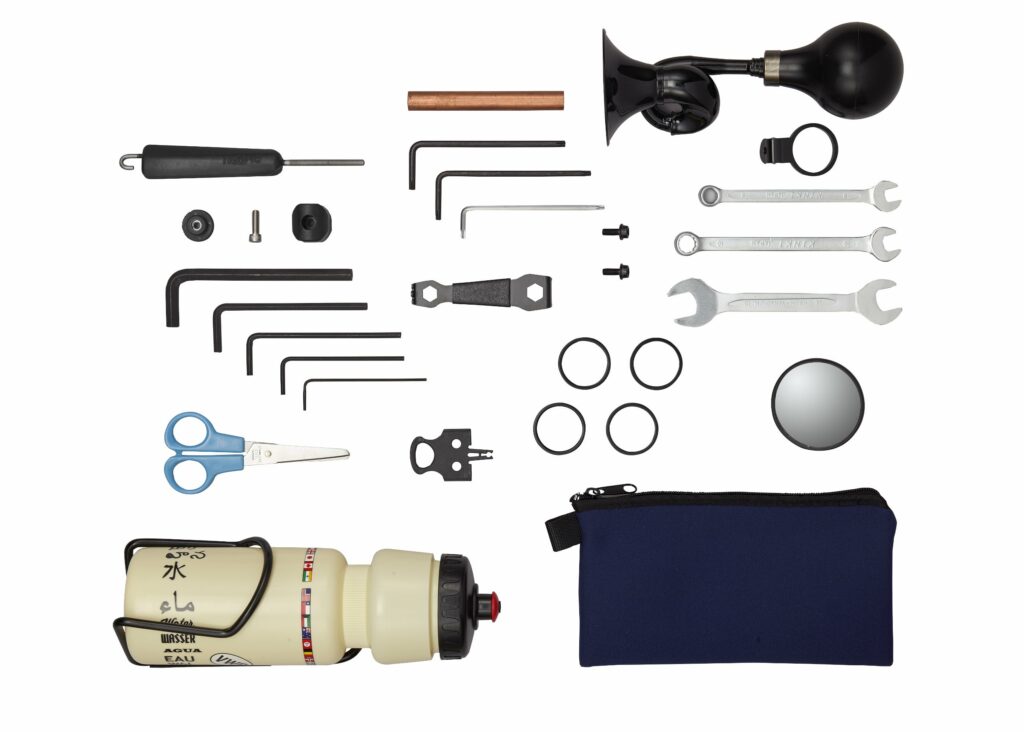 In the city, for bike servicing, you can work with bike shops. They have the tools, you value their expertise and save your time for other things. But if you head for the road, or the track, you want to have your own tools, for some things at least.
Specific things that people travelling by bike will occasionally do are:
Adjustments in seat, handlebar, mudguard or brake/shift lever positions
Pack for an aeroplane
Reassemble the bike after flying
Remove a punctured tube and replace it
Change the oil in the rear hub
Check tightness of screws such as on the lower rear rack or the kickstand.
Pump up the tyres
A Vivente bike comes with all the tools you need for such things except for a spare tube and a pump. They come in a tool bag in the "Owners Box" which also includes some extra parts.
Rear Rack
Vivente bikes are fitted with Tubus Logo Evo rear racks. These are made from Cr-Moly steel, giving them much greater durability than alloy racks. The rear panniers are mounted low to improve bike handling.
Vivente bike design integrates the rack with the rear disc calliper in a way that avoids needing to space the bottom mounts out. Having to have long bolts through spacers weakens a rack mounting. The rear wheel is easy to refit because of the brake calliper position.
An inherent problem with long distance touring bikes is lower rack-mounting screws coming loose. This is why some producers have made the rack to be part of the bike frame. But that gives rise to other problems. Vivente has solved the problem by making their frame "eyelets" 9.5mm thick (instead of the industry standard of 7.0mm) and uses special high tensile flange-headed screws to attach the rack.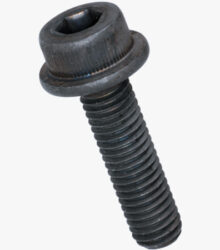 Luggage Strap
Tubus makes an excellent luggage strap that has outlasted any others that we tried. It is the German commitment to quality.
This accessory has so many uses, from carrying your lock to holding a last-minute purchase like a carton of milk. You don't need to go and track one down. You get one with the bike.
Steering Stabiliser

It is almost unknown to see this on a bike, but it is unobtrusive, light, inexpensive and works really well. It is a length of elastomer joined at the front to the fork crown and at the back to the downtube.
It is adjustable, even when riding and can be removed in seconds. It has two functions.
In conjunction with the kickstand, to make parking easier. The stabiliser prevents the front wheel from flopping to the side. For example, you have the bike on a train and don't want other passengers to be inconvenienced. Your front wheel is almost straight ahead.
To dampen the steering. You don't need to hold onto the bars as tightly and can even take your hands off the bars at least briefly. Long days on the bike are just easier. This is made by the German company, Hebie.
Water Bottles and Cages

Vivente bikes are supplied with two bottles and cages. One comes in the mechanics' pack. The other is in the Owner's Box. The bottles are 700cc.
Front Thru-Axle (TA)
Although Thru-Axle has been developed for rear hubs too, we see no point in them. It's a different story at the front though.
Until about 2015, front wheels were held in place with QR (quick release) skewers. There was a specific issue that occasionally arose; When a major jarring force happened or we hit a pothole, or we missed spotting something across the road like a tree branch. The impact could be enough to jar the wheel slightly off-centre. In turn, this caused the front brake to rub on the disc rotor. We'd have to pull up, undo the QR, allow the front wheel to recentre, do up the skewer again and take off again.
The front TA does away with this problem by being more rigid and being impossible to knock out of place by accident.
Rear Lock Mounts on the Seat Stays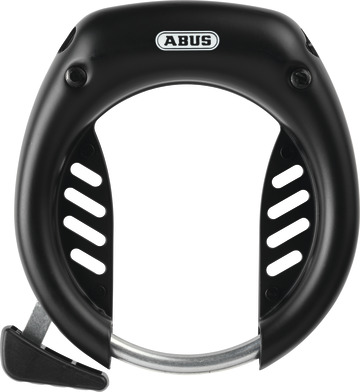 In much of the world, this is the predominant type of bike lock. It is attached just below the rear upper bridge. This lock just stops someone from wheeling or riding your bike away. Vivente bikes have the special attachment points for this type of lock.
Eccentric Bottom Bracket (EBB) Unit as the Method for Adjusting Belt Tension
The EBB unit which employs an internal expansion system to lock into place is the best solution to this need for tension adjustment. The wedges slide up and down greased ramps to lock the position.

One-key Release Crank Extractor System
Needing to remove a crank is highly unlikely, but should it ever happen when you are on the road, all you need is an 8mm hex key (which comes in the tool kit) and a way of lengthening it for leverage. That would be a bit of thin pipe that you would find. Please see the bike service section for more on how to do this.