A car would not get registered if it was just a chassis, engine, brakes, steering wheel and seat. A bicycle is also better when more features are integrated into it. The below touring bike features come standard on every Vivente Bike model unless specified
Rear Rack

Vivente bikes are fitted with Tubus Logo Evo rear racks. These come made from Cr-Mo steel, giving them greater durability than alloy racks. The rear panniers are mounted low to improve bike handling.
Vivente bike design integrates the rack with the rear disc caliper in a way that avoids needing to space the bottom mounts out. Having to have long bolts through spacers weakens a rack mounting. The rear wheel is easy to refit because of the brake caliper position.
An inherent problem with long distance touring bikes is lower mounting screws coming loose. This is why some producers have made the rack to be part of the bike frame. But that gives rise to other problems. Vivente has solved the problem by making their frame "eyelets" 9.5mm thick (instead of the industry standard of 7.0mm) and uses special high tensile screws to attach the rack.
---
Front Rack
not included

Most front racks will fit but Vivente forks are made with the additional mounts needed for Tubus Duos. This rack is in two pieces, without the hoop needed for most front racks. This picture shows one side fitted. The 6mm spacer needed comes with the bike. Add 3 washers to the spacer.
---
Kickstand


This is a component that is frequently missing from non-European touring bikes. Turn up in a town square for a cup of coffee and try leaning your bike against a shopfront and you'll soon appreciate the need for a stand. On earlier models, Vivente used two-legged centre stands but then discovered the rear left chain-stay mounted kickstand with adjustable leg was half the weight and better to use.
---
Steering Stabilizer


It is almost unknown to see this on a bike but it is unobtrusive, light, inexpensive and works really well. It is a length of elastomer joined at the front to the fork crown and at the back to the downtube.
It is adjustable, even when riding and can be removed in seconds. It has two functions. One, in conjunction with the kickstand, is for parking. The front wheel doesn't flop to the side. For example, you have the bike on a train and don't want other passengers to be inconvenienced. Your front wheel is almost straight ahead. The second is to dampen the steering. You don't need to hold onto the bars as tightly and can even take your hands off the bars at least briefly. Long days on the bike are just easier. Made by the German company Hebie.
---
Mudguards (Fenders)

We often cycle with a friend and occasionally the road or path is wet. Mudguards (or fenders) are not just to stop water and mud streaking up your own back. They are to stop you spraying the person riding behind. It is simple etiquette to have a full length rear mudguard for the sake of other cyclists and a bit rude not to unless, for example, you are using fat tyres for loose and rough tracks.
They have an obvious place on touring and urban bikes though. Durability is the challenge with mudguards. They need to be very securely mounted or they will soon start coming adrift. Because some guards are sold 'after market' to be fitted to a wide range of bikes they have more plastic or alloy mounts. These can vibrate loose. The best ones have stainless steel eyebolts and stays designed to suit the actual bike they are fitted to. But it is not a fashion parade…it's a mudguard.
---
Horns and Bells

Vivente bikes come with both a horn and a bell. Try using a horn on the bike path along the Danube and you'll get some (not happy) reactions. Try using a bell to clear a gap through a herd of water buffalo in India and you'll get no reaction. You can set the bike up with both or choose what you think is most appropriate for where you are. Vivente bikes are born and bred in Australia where riding conditions in the cities are not very good so the horn tends to get put back on as soon as we arrive back from more bike-friendly places.
Depending on how you like your bars set up you may want to mount the horn, the bell, or both. But you are likely to have other things that reduce the available mounting space. To give you lots of options, Vivente bikes come with PVC brackets in three diameters plus a steel bracket for the headset stack. Swabia's come with a Vivente accessory mounting bar for the shift lever. This is also available as a spare part.
---
Mirror

This could be a long and detailed comment but you likely don't want that. Vivente has test-ridden various mirrors and have found the German made Busch & Muller to be superior. 80mm has been found to be better than 60mm. Flat is better than convex. For Swabia, Deccan and riser bar versions of Gibb and Anatolia, mounting in the handlebar end is best. For trekking bars and for Patagonia, a clamp mounting is good. But also possible is a "Rivnut". The bikes come with the clamp version but you can get the Rivnut fitted if you want.
Strangely, people would not drive a car without a rearview mirror but almost no bikes come fitted with one.
---
Compass Mounting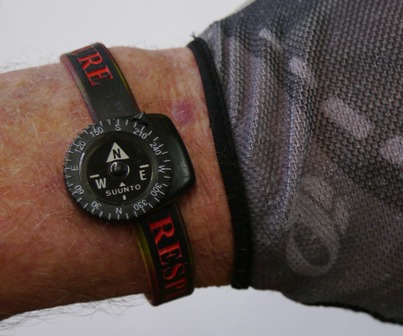 In recent years handlebar bag makers have been using magnets in their bag closures. The magnets make it impossible to find good compass mounting positions on the bike. The solution is to use a compass such as the Suunto Clipper, mounted onto a wristband.
---
Water Bottles and Cages


Vivente bikes are supplied with two bottles and cages but only one comes fitted. The other is in the Owner's Box