Australian and Kiwi bike tourers have long been among the most intrepid travellers. At Vivente, we have been there all the time, endlessly riding, improving. With over forty five years of development, our touring bikes match the best in Europe.
Integrated lighting
All Vivente touring bikes come equipped with integrated lighting powered by a dynamo hub for the best bike lights experience.
Racks Included
All Vivente touring bikes are equipped with tubus racks for the rear and mounts for front racks.
Steel Frame
All Vivente touring bikes are made to the strongest standard for steel frames to make the strongest bike possible.
Vivente Touring Bicycles
We've designed Vivente World Randonneur bikes to a rigorous standard to ensure their quality meets high expectations. So use our touring bikes for your morning commute or your on-or-off-road adventures, they will not let you down. Choose from the below models to see which is right for you.
Click an image to view larger version
What People Are Saying
"I want to tell you that I won't rave excessively about this bike but that would be a shaky promise."

rideonmagazine.com.au
Australia's most widely-read bike magazine
Vivente bikes are designed for distance, trail and urban touring alike.
With their Busch & Muller lighting system and rust-proof chromoly steel frames our bikes are ready night and day to take you anywhere.
Touring Bikes for Travellers & Urban Cyclists
Vivente bikes have changed from the classic on-road touring bikes we've been making since 1981. Since then they've become adventure bikes and all-road bikes with wider touring handlebars. Also they include room for bigger tyres, lower gears, and an ability to handle harsher use. But they remain the classic Australian on-road touring bike built for both light travellers and adventurers coming across rough roads.
Schwalbe Almotion tyres and a dynamo lighting system are real advantages in the city where it's safer to leave your lights on all the time. If you are out riding and it rains, mudguards are a kindness to the cyclist behind you and the Tubus rear rack is perfect for both long trips and for when you grab some things on your way home from work.
The complete utility and comfortable touring bike handlebars and timeless style of a Vivente Bike is sure be everything you need for your next adventure.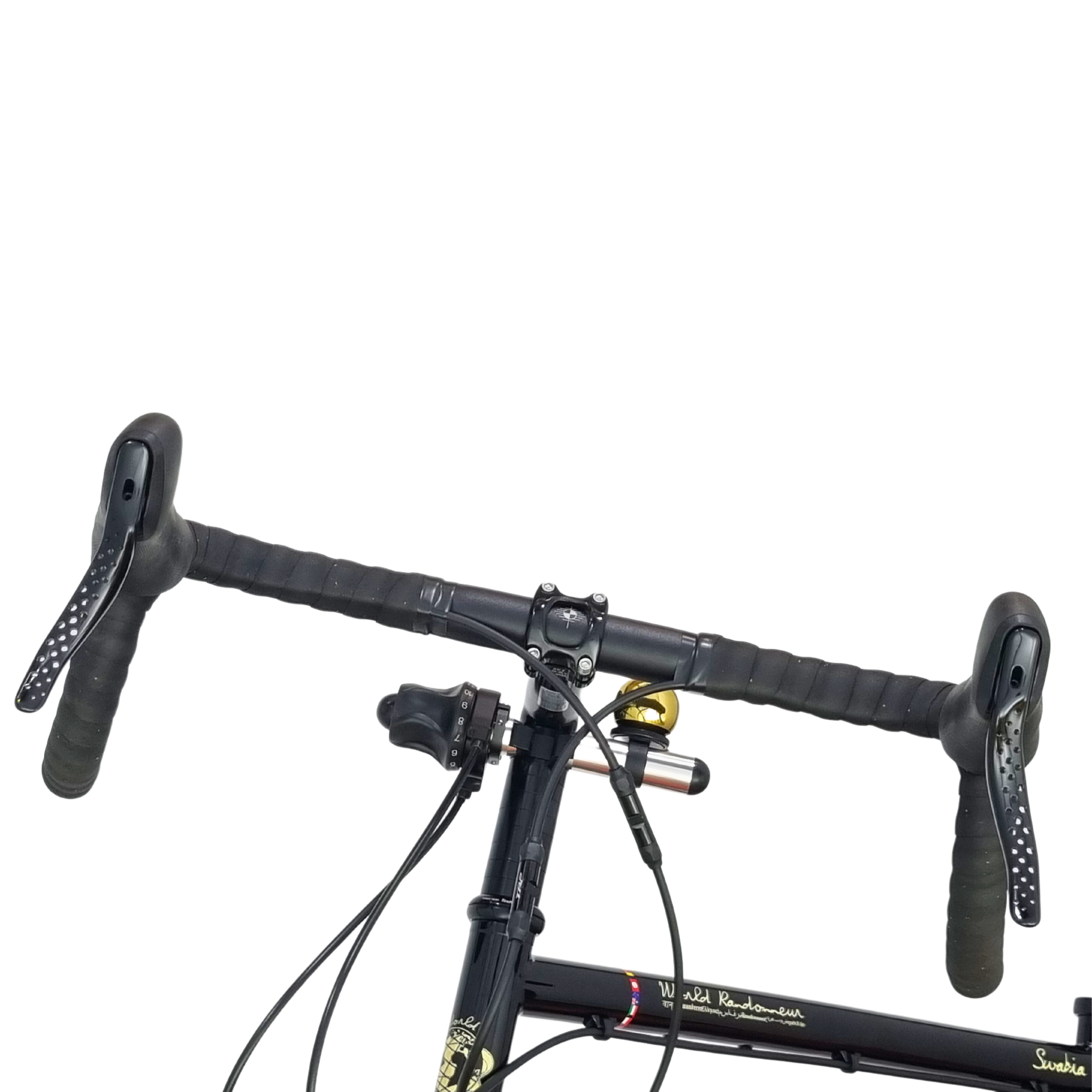 The Road to Development
Noel has been riding around the world, testing parts and making changes for over 40 years. Vivente bikes aren't simply a list of parts but rather a result of years of hard study into what makes a touring bike great.