Wheels are often the most broken component on a bicycle so it's important to seek out the absolute best touring bike wheels. You need reliability and strength when it comes to each and every aspect of a touring bike wheel and below we will discuss all of them.

About Wheels
Our bicycle wheels hold us up and roll us over the surface. They take the initial impact from the road and are designed to absorb much of the shock. Special spokes, rims and tyres are made for loaded bikes expecting to travel basically anywhere. Strength is especially important because damaging any of them could be an extreme inconvenience if you are travelling.
'Overbuilding' wheels (making them more massive and heavy) is not a solution as it removes the shock absorption qualities, plus, more weight slows you down.
Weight is a greater issue than in other areas of the bike because the energy-demand of adding a gram to the wheel perimeter (tyre/tube/rim) is tripled due to the need to rotate this extra mass.
The quality of the wheel building is very important. A terrible wheel can be made from the best components, by poor wheel building. Spoke tensions need to be quite high and all spokes should have the same tension as the other spokes on that side.
Tyres
Tyres offer us more or less rolling resistance, shock absorption, puncture-proofness, long life, resistance to being cut, "grip" as in not slipping on corners, weight and the associated amount of work to overcome inertia.
The touring bikes we are talking about are designed for daily transport and for long distance travel, plus carrying loads. So a little extra tyre weight might be something to compromise on in favour of the other things that touring bike wheels offer.
Another issue is that of spare parts availability around the world. This sometimes gets alluded to as if it is acknowledged that bikes ought to be designed so they can have bits replaced anywhere on the planet. If you are riding the Eurovelo routes you are not far away from any spare part. But if you are in the Australian outback, most of India, Africa, South America or central Asia there is a whole list of things you can not readily get. This means…
have high quality components to start with
take great care of your bike (don't allow people to go for a ride on it for example),
carry your own spares for a few things (eg brake pads), and tools and
have access to the internet to get information
Many long distance riders carry a tyre, mostly a fold-up one which is a type, such as the Schwalbe AlMotion, that is lighter because it does not use wire for beading. But if the tyres don't fail and last 10,000km or more there is no need to be able to find them in all corners of the globe. Riding that 10,000km without the spare and on 700C would have been, in most places, possible and better. Some people leave a spare all ready to send with a friend.
Referring to Tyre Sizes
Rather than rely on nominal diameter figures like 700, 28", 29'r, 26", 650B etc, it is safer to use the BSD (bead seat diameter) number. This is the cross section as indicated in this diagram. We refer to this as ISO or ETRTO. They are the same thing.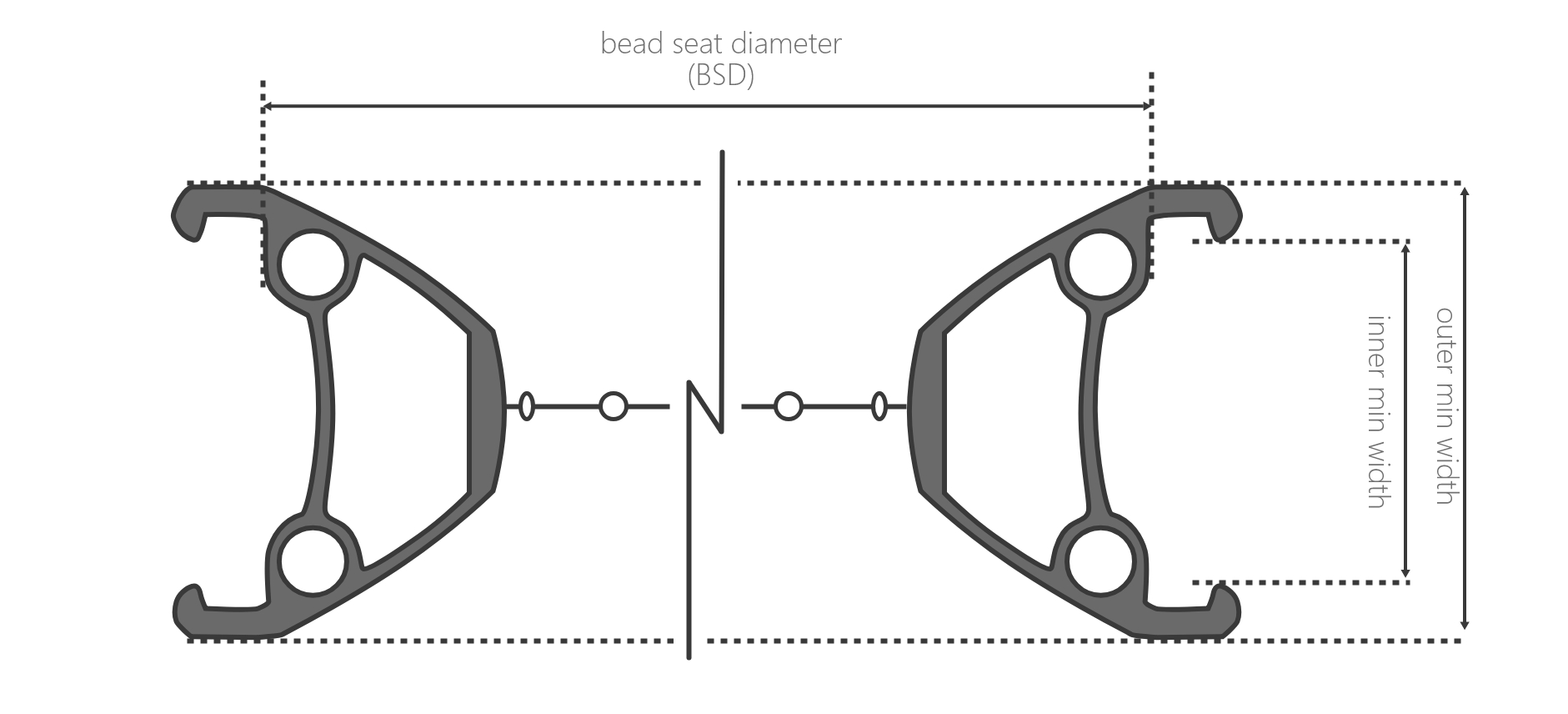 700C has a BSD of 622mm. This is the same as on the Northern European designation of 28" and the modern MTB size called 29er.
584 is the BSD for the 650B size we mainly see on some French and Japanese bikes. More recently adopted in the MTB world and renamed yet again – this time as 27-1/2".
559 is the BSD for most MTBs prior to the development of the 29er
Tyre Width, Air Pressure and Rolling Resistance
Once your bum gets used to sitting on a bike seat, with a good saddle, good riding pants, a cr-mo bike frame and well-built touring bike wheels, you don't need low tyre pressure just for comfort. At lower pressures the rolling resistance of the tyres on the road increases. About 60psi is both comfortable and efficient although just how efficient varies a lot between different tyres.
For many years the Schwalbe Marathon, mostly the 37mm wide ones, were the tyres of choice for touring. They are very long-lasting, strong and puncture-proof. However the Schwalbe Almotion tyres surpassed the Schwalbe Marathon tyres. It is foldable and is tubeless-ready. Unfortunately, it is double the price. With matching longevity and puncture-proofness, the great feature of the Almotion is its low rolling resistance.
Tour de France riders output 2-300 watts for about four hours. Touring riders, unless in a great hurry, output closer to 100 watts. With tyres pumped to 60 psi the Schwalbe Marathon Greenguard burns up 21.3 watts or 42.6 watts on the bike. Just by changing to Schwalbe AlMotion, we can reduce the total rolling resistance by 19.7% down to 34.2 watts. Hardly something to make a saving on!
Even unsealed surfaces are often smooth enough to not require wider tyres. If the bike has good clearance for 2" tyres (with the mudguards removed as mud and rain don't go with off-road adventuring), you can just put them on for a particular bike trip. They just have to comfortably fit.
2" tyres are not about rolling resistance. For example, a Maxxis Ikon 2.2" run at 30psi burns up 30 watts, or 60 watts for a bike. 2" tyres are not for round-the-world riding but nor is the touring set-up with 40mm tyres and 60psi, suited to rugged or very rocky terrain. Riding through rough country is easier and faster on lower pressure. You can only achieve this with wider tyres. You don't waste energy bouncing around. Your tyres conform to uneven ground. Knobs on the tyres stop you sliding out in corners. This all allows you to move faster in particular terrain.
It's a nice feature of a touring bike to be convertible to a serious bush bike just by removing mudguards and swapping tyres. The touring-bike features of general ruggedness, very strong touring bike wheels, wide gearing, in-built lighting and luggage hauling systems, set this bike above many others.
The V18-2 Swabia with Maxxis Ikon 2.0″ tyres
No Guards, no stabilizer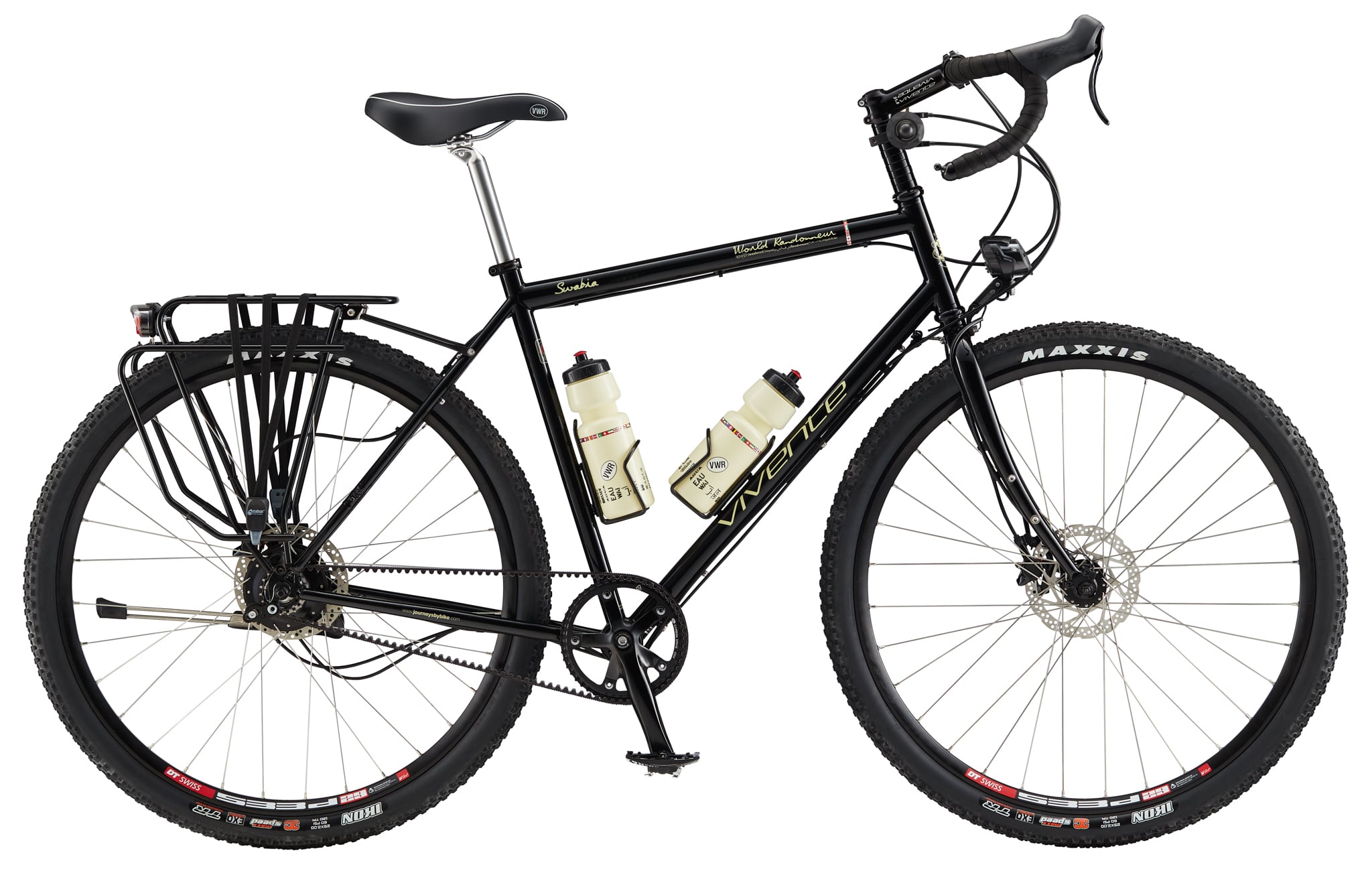 2.0" tyre on the V18 or V18-2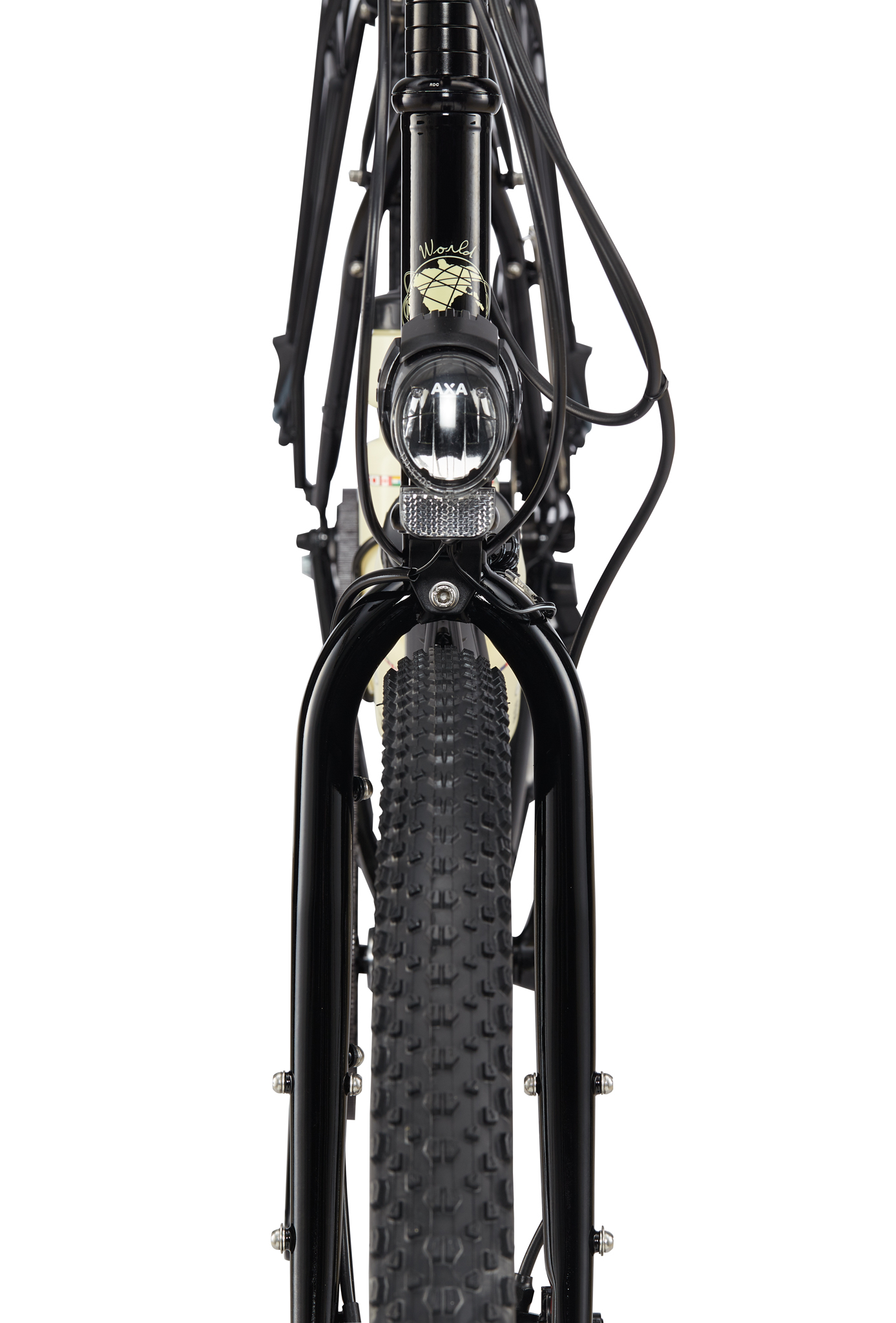 Tyre Boot As An Emergency Repair
Made from a bit of motorbike tube, this is a lightweight alternative to carrying a spare tyre. It should be a width that suits your tyre width so it will wrap around but not overlap. You just slide it in and then finish putting the tyre on. In the example below, I used the tyre for many thousands of km after I installed the boot, even though I damaged it coming down the Western Ghats on an old gravel track.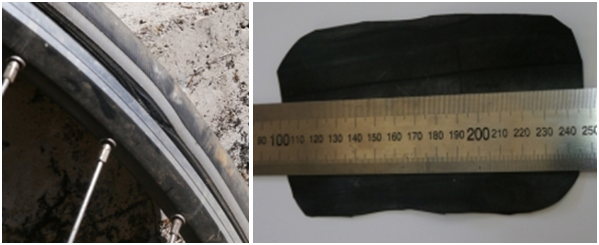 Rims and Spokes
Over the years rims some better rims for touring have come onto the market. E-bike development in Europe has brought with it slightly wider rims that are able to run wider tyres. They are made to carry heavier loads and make for great touring bike wheels.
Cross section of DT Swiss 533d disc-specific rim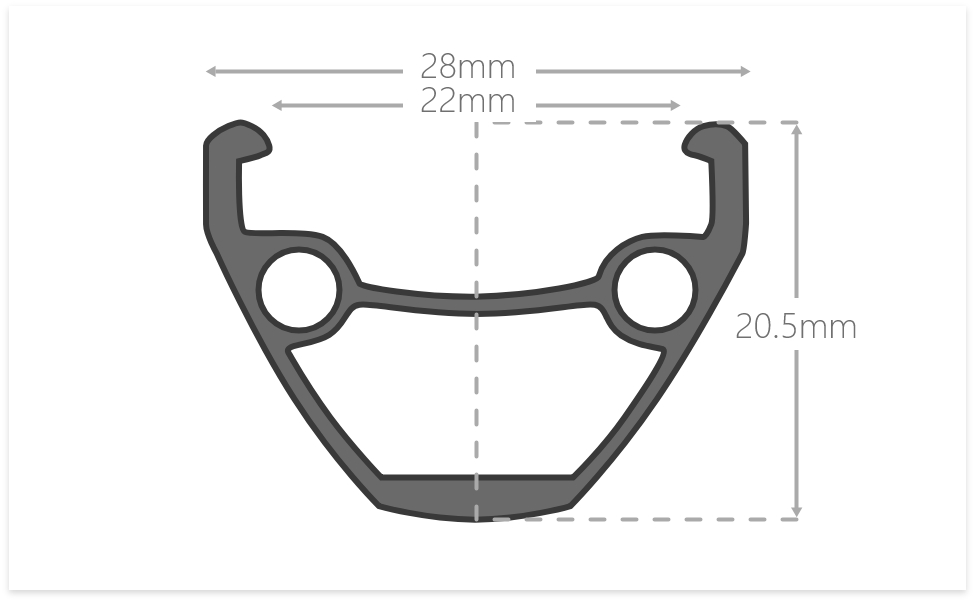 We used to all believe that more spokes was better. But extensive test-riding of 32 spoke wheels, properly built, and with top-line spokes has proven that 32 spoke wheels are just as good as 36 spoke wheels.
As mentioned, the quality of wheel building is very important. Spokes break for three key reasons.
Inadequate support at the bend – the hub flange is too narrow, or spoke bend too long so the bend lacks support.
Inadequate tension in some (or many) spokes leads to shock loading on the spoke bend/head as the spokes tensions and relax (completely) throughout the rolling of the wheel.
Inconsistent tension. Any higher tension spoke will have to manage the bulk of the wheel's load throughout the rolling cycle.
DT Swiss and Sapim generally make the best spokes. Of the two, Sapim makes the spokes with the most consistent bend dimensions.