You may want to save this one until you have time, as it is 1,800 words!
Author: Noel McFarlane
My History of Bike Touring
I want to go back to when I first heard about travel on a bicycle.
Bike Touring has been around for a long time (bike touring clubs were formed in the UK 140 years ago), but there was a point in time when each one of us first encountered the term and the idea of bike touring. We might have ridden to school as kids, ridden around on the weekend, visited friends, got into some "discipline" or some bike fad. But, until we heard the term "bicycle tour" we had no idea that travel could happen on a bike.
In my case it was the mid 1970's when I saw a poster in Haymarket, Sydney advertising a 'Friends of the Earth' bike ride down the south coast and up the ranges to the "Down to Earth" festival in the ACT. The poster inspired me, and I went on the ride. I met a bunch of people whose bikes had longer wheelbases, racks, panniers, lights and wide range gears, none of which I'd previously known about. Many had been made at Man Powered Vehicles in Waterloo, Sydney.
My bike touring started after that. In the 1970's it took me to lots of remote places including across the Pilbara on tracks, and into the Himalayas. These were long and epic tours, often off-road. Progressively, I got the points about the gears, the wheels, the luggage system, lighting, mudguards, saddles and always selecting quality parts when available.
As years went by, for me, bike touring had to be limited to 2-3 week tours at a time. I had to work and so did my friends. But getting away on a bike had a magnetic attraction By adopting a 2-3-week-bike-tour-lifestyle, I am also able to get other people to come along on their annual leave. In my over 65 bike tours to date, I've rarely ridden alone.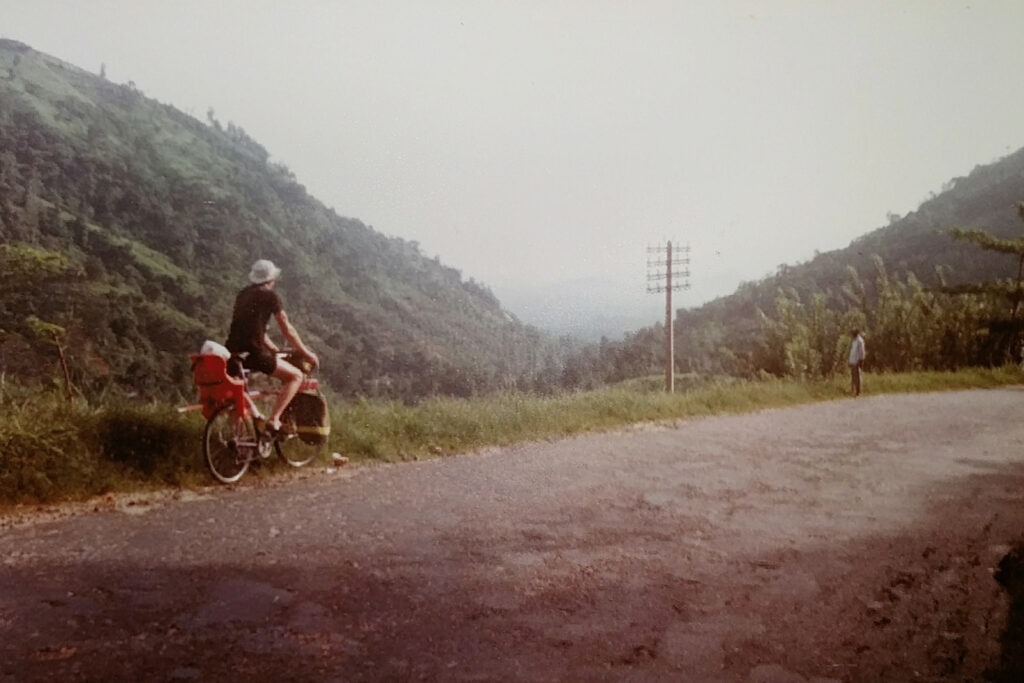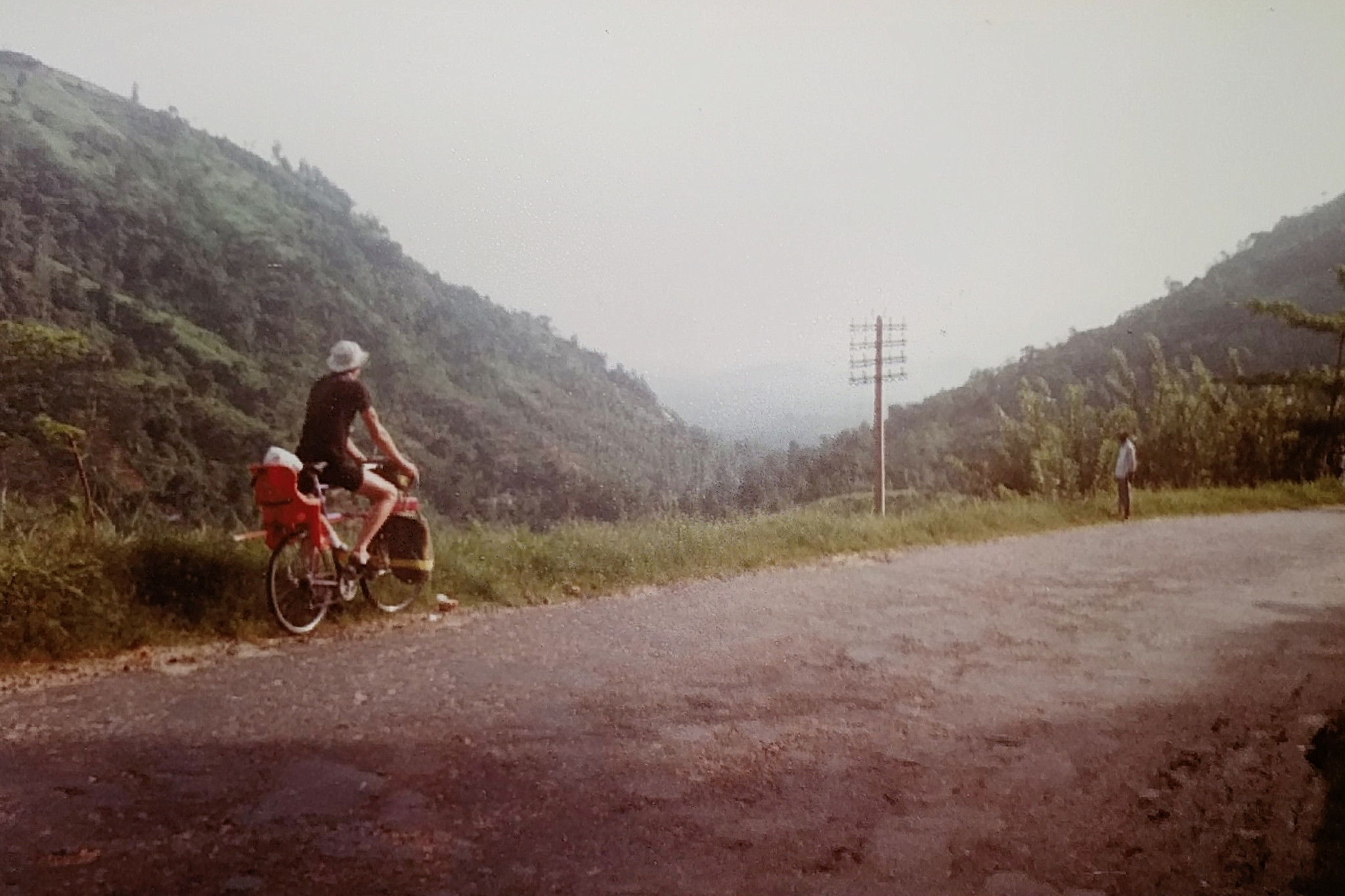 To summarise, there was the period when I rode a bike every day but had no idea I could travel on a bike; then there was the period when I heard about bike touring and got interested in doing it; then there was a period of epic tours that lasted many months at a time; and finally, for the last 22 years, shorter 3 week bike trips. I always thought they were bike "tours" because that was the term that was planted in my head at the outset.
What terminology do people encounter now and does it mean anything different?
According to google search data, searches for the term bike touring have been static over a long period. But in the last six years there has been a large rise in searches for bikepacking. What does this mean?
Bike companies use the term bikepacking and talk about it. Traditionally few bike companies said that they had a touring bike in their range or that a certain bike was right for bike touring. Of course, in an industry that avoids adding things to the bike frame other than wheels, brakes and transmission, it was always going to be a bit hard to say they had a touring bike. So, marketing noise from the bike manufacturing sector will be the initial source for some of those google enquiries for "bike packing", simply because a lot of bike brands were pushing it.
Bike shops are using the term bikepacking more, whereas, over the decades, most shops seldom brought up bike touring. Now shops are putting on rides, described as bikepacking to encourage their customers into the cycling experience. For customers, this is sometimes the first time they hear the term "bike packing" and get the idea of using the bike for overnight trips.
Mass MTB events like the Mont, that used to have thousands of entries and lots of sponsors, have fallen by the wayside. No one would have predicted that 15 years ago. Competitive but non-road-racing cycling has been one of the sources for a new community of people that have put minimalist overnight camping and X-country MTB racing together. Longer courses (Hunt 1,000, TA – Tour Aotearoa, etc) can now be done. Whereas there is often a sense of doing a bikepacking trip as fast and hard as possible, this was not never a feature of bike touring. Thus, another source of that initial bikepacking terminology encounter has been the marketing of mass participation, multi-day bike packing events.
Much visited gear-review websites like cyclingabout.com, that for years have presented "bike touring", have also been presenting bikepacking. There is a whole lot of new gear for them to talk about. Increased references to bikepacking on the internet have helped make this the term that has initially linked new people to the notion of travel on a bike.
In Australia, NZ and the US, bikepacking is becoming the term likely to be first heard, with its attendant visual imagery of a bike with luggage attached to the frame and around the front rather than on a rear rack.
OK so it is a different term but what's the difference between a bike touring experience and a bike packing experience?
To some people, if you are on a bike with panniers and dynamo hub and kickstand, it simply can't be called bikepacking. In the touring world, some people say, if you don't have both front and rear panniers, it's not really bike touring. Maybe it's credit card touring as if the pure among us don't spend money and don't have credit cards. Google fully loaded touring. The obvious response is 'who cares?'. It's a machine to do a job so the issue is more about what the job is.
To some, a bike tour must be an epic life-changing, discover-the-world experience. So, if you don't have the time or inclination for that, then bike touring will seem foreign. In a sense, the difficulty bike industry people have had in engaging with bike touring, in Australia and in the US, has left a big empty space. Bikepacking has provided some fill for this space. It's great being outside in the country on a bike and this is happening more. So, it is a good thing.
When we talk about design and specifications for any bike category, we will naturally address the most extreme and pure form. Road bike makers will leverage their success in the big European bike races. A touring bike designer will talk about how this bike will endure anything Mother Nature throws at it and it will never break down. This reminds me of when I ran a bike shop and how surprisingly often people would say, when explaining what they thought they needed, that they were not going to race. "I don't need the pure form".
Perhaps, fatter tyres aside, bikepacking bikes are the less-pure form of touring bikes.
"I am not extreme. I'll go away for a few days in a group. A long weekend and let-off steam, clear the cobwebs, enjoy the outdoors. But I can't see myself heading off on a never-ending adventure with only vague destinations and possibly alone. I am currently too busy and involved for that".
The Issue of Weight
Whereas the weights of touring bikes have not been a driving issue, in bikepacking discussions, weight comes up a lot. Perhaps partly because of sometimes rugged terrain and sometimes because you don't want to get left behind. OK, its not a race, but then, maybe it is a race. People train for events but rarely does someone train for a bike tour.
If the quasi-competitive aspect is completely removed, for example, it is just you, do you take a small tent and sleeping bag or do you stick with the plastic tied up in a tree? Perhaps that depends on how many nights. One? Two? Seven? Two weeks? Are you doing this for pleasure or as some kind of toughening-up exercise? Bike touring was not that, in the pure form, or for the majority of bike touring people. On Instagram, follow round-the-world biker tourers and they are not grimacing. They are mainly talking about what a great time they are having.
But with the weight issue so much on the table in bikepacking discussions, equipment compromises can more easily be justified. Dynamo hubs are heavier so give them a miss. Rear racks weigh something so give them a miss. A Tubus Logo rack weighs 738g. Is that a lot? About ¾ a litre of water equivalent. You can attach a tail light to a rear rack. You can put a luggage strap on it and have the convenience of having your lock so accessible. Panniers, which you can have if you have a rack, keep your centre of gravity right down, compared, for example, with bags that attach to the bike seat. Panniers may be moved on and off the bike in one second. But you need a rack.
In Europe, where most new bikes already come with hub dynamos (by law) and rear racks, one rarely sees a "bike packing" set-up, with no rack but frame bags and things attached under the handlebars and saddle. In this sense, bikepacking is what happens on bikes that have not already been created for travel but are being used for travel or multi-day unsupported events. It happens in countries where the bike industry typically has not offered bikes with rear racks. More than anything, it has resulted in lots of people riding in the country.
We discuss weight in our write-up on The Issue of Weight
Plug for rear rack on a bike
Dismissing rack and panniers as being too heavy on the grounds that a cr-mo rack weighs 738g might be a bit hasty. People wanting to sell bags might not say that though. The expandability of panniers is something you occasionally really appreciate. And the easy-on-easy-off aspect of panniers is good every day. So is the accessibility of your stuff.
You can go anywhere in the world, in the better seasons for at least a month, with good rear panniers only 70% full. Room for the late afternoon shopping. Add a handlebar bag which you can also take on/off in a second. If you are on the road for over two months, you would be adding a camping set-up most likely with one set of front bags being good for two people.
Bottom Line
Calling travel on a bike bikepacking or bike touring is just terminology. You are a bike rider, and you are a traveller.