Rider Height Range and Ease of Steering
Vivente touring bike designs suit people from 150cm to over 200cm.
By using a smaller wheel diameter on the XS size, the top-tube can be shorter without changing the frame head angle or the fork trail. That translates into not sacrificing the handling geometry.
The fork trail on all Vivente bikes sizes is above 60mm which makes the bikes particularly easy to steer. You don't need to hold on so tightly which makes a noticeable difference if you are riding for hours.
BB (Bottom Bracket) Height
Relatively low bottom bracket heights also help make bikes comfortable. These are lower than what is typically found, for example, on competition bikes which includes cyclocross and mountain bikes. With a lower BB you are lower in relation to the wheels. A very different feeling compared to riding a small wheeled bike such as a folder. It is a little more like being "in" it than "on" it.
Rear Stays
464mm length chain-stays (436 on XS with the smaller wheels) leave a heel clearance gap from the panniers.
Range of Tyre Widths
The positioning of the upper and lower bridges between the rear stays determines the maximum width of tyre that will fit.
Vivente bikes allows for 2" tyres (50mm) both front rear. For some knobby versions of 2" tyres the mudguards may need to be removed. On V19 (released in 2019) bikes this clearance size was increased to 2.1″.
Mounts and Hardware
Mounts for front lowrider racks are fitted to the forks. These are independent of the front mudguard stay mounts. There are spare spoke mounts on the left side seat-stay. Also on the seatstays, near the upper bridge are mounts for the traditional type frame lock.
At the rear of the fork crown and under the downtube are mounts for a steering stabilizer which is desirable when using front panniers, when on longer rides and for parking.
Regular frames have five waterbottle mounts. DTT frames have four. (Two are on the front forks).
BSA and EBB Frame Types
Birmingham Small Arms (BSA) and Eccentric Bottom Bracket (EBB) are two types of bottom bracket shells in bike frames. Almost all frames are BSA which is a reference to the thread dimensions that the bottom bracket unit screws into. But when a bike has just one sprocket at the front and one at the rear there needs to be a way of tensioning the chain or belt. An EBB shell is larger than the bottom bracket unit and an insert (Genio in the case of Vivente Rohloff bikes) is able to rotate inside the shell.
The BB unit is fitted into an off-centre hole so that rotating the insert moves the bottom bracket axle slightly forward or back, thereby allowing adjustment in belt tension. An EBB frame can be used for a derailleur set-up but for a Rolloff set-up with belt drive you can't use a BSA frame.
Rear Rack Attachment
Decades of refinement have been needed to arrive at the modern Vivente frames. A regular supply of new test frames and several tours per year have resulted in the latest product available today.
The geometry has barely changed in 30 years but many smaller details have. One example of such a change has been a new casting of the rear dropouts so that there is now 9.5mm of metal (rather than the conventional 7.0mm) into which the lower rack attachment screws are fitted.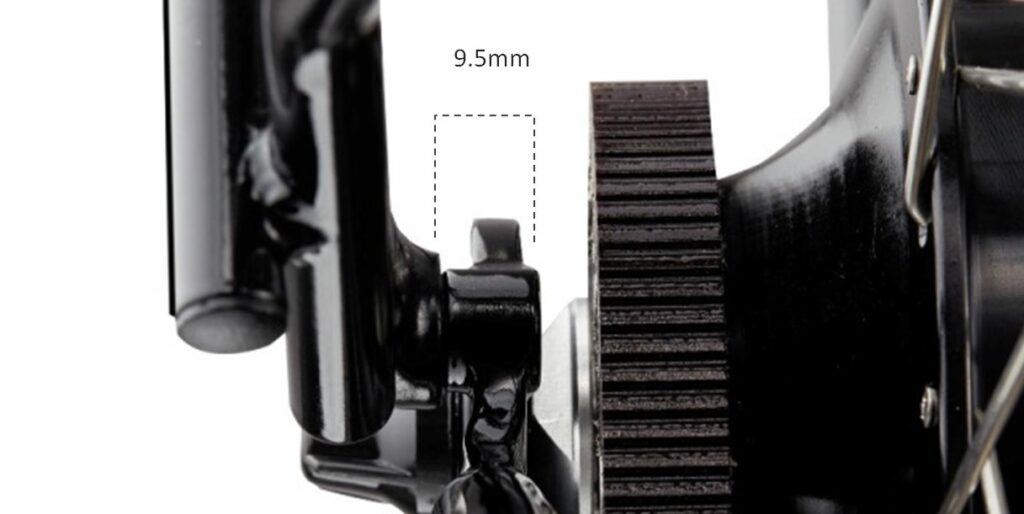 We were aware that the normal length screws, on rough roads and tracks, would sometimes come loose. If not checked, this allowed the screws to move sideways and damage the threads in the frame with possible disastrous results. Even if this happened only on one in a thousand bikes it is what we need to prevent.