A work trip to Eurobike landing and departing Frankfurt (FRA). Previously I have tried to save time by taking the train from Frankfurt to Ulm and doing a one-day ride from Ulm to the show and return after the show. This time, for variety, I'll use the trail+ride-from-Ulm system for getting there but post-show, I'll ride from Friedrichshafen back to Frankfurt. The return leg should be 350km so I figure, with a bit of getting lost, 4 days will be plenty. Going through Tubingen and Heidelberg. On this trip I am torn between using the roads and taking advantage of their signposting and using the bike paths. The trouble with the bike paths is that their signposts typically mention places only 2-10km away and with the dense settlement and rural villages I need very detailed maps and frequent stopping to figure out where these places are. The trouble with the roads is that they are not bike paths. The local riders are not on the roads so much and Germans seems to think if they make bike paths they don't need to have shoulders on the roads. This is an orienteering bike ride.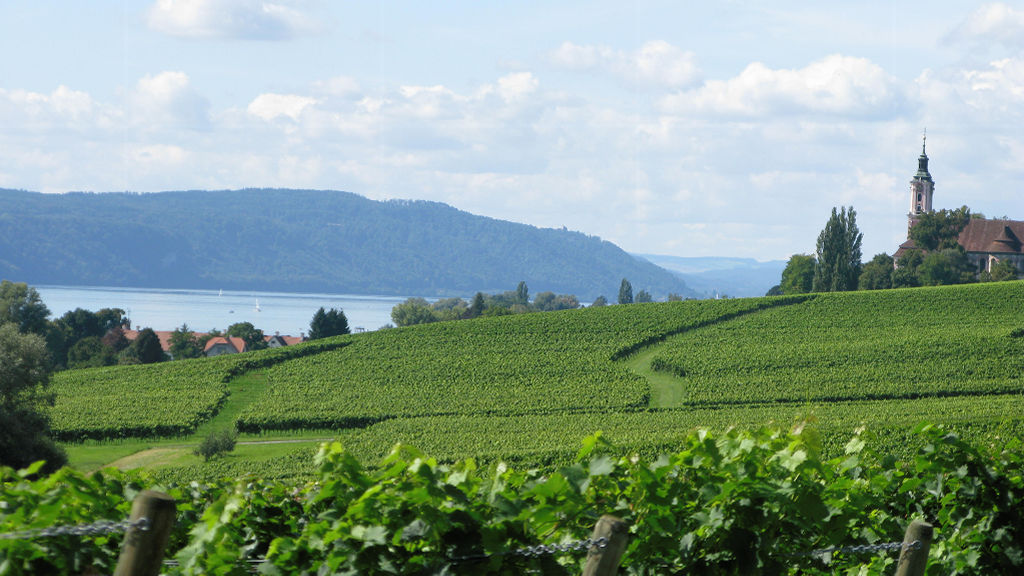 Near the end of the Ulm-Friedrichshafen leg with Bodensee in front. It is a special area for cycling with probably over 100,000 people riding the 200km right around the lake in a year.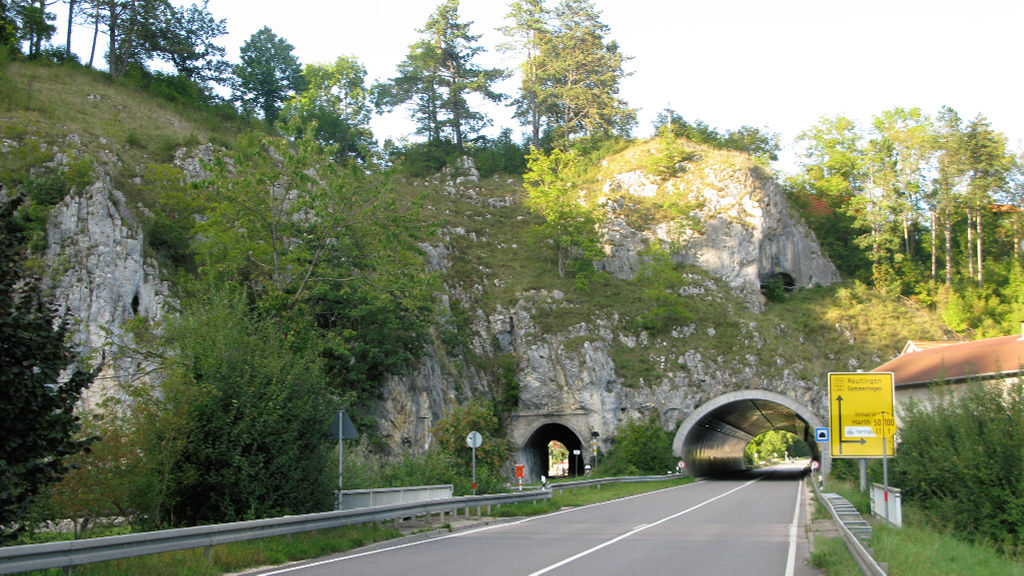 Heading north again after two days at Eurobike. The point of this shot is that I am on the road, merely because of the signs to further-away places that allow me to not stop so often, but I am having to go through this road tunnel when, just to the left of the road, cyclists on a bike path have their own tunnel. So I got that wrong.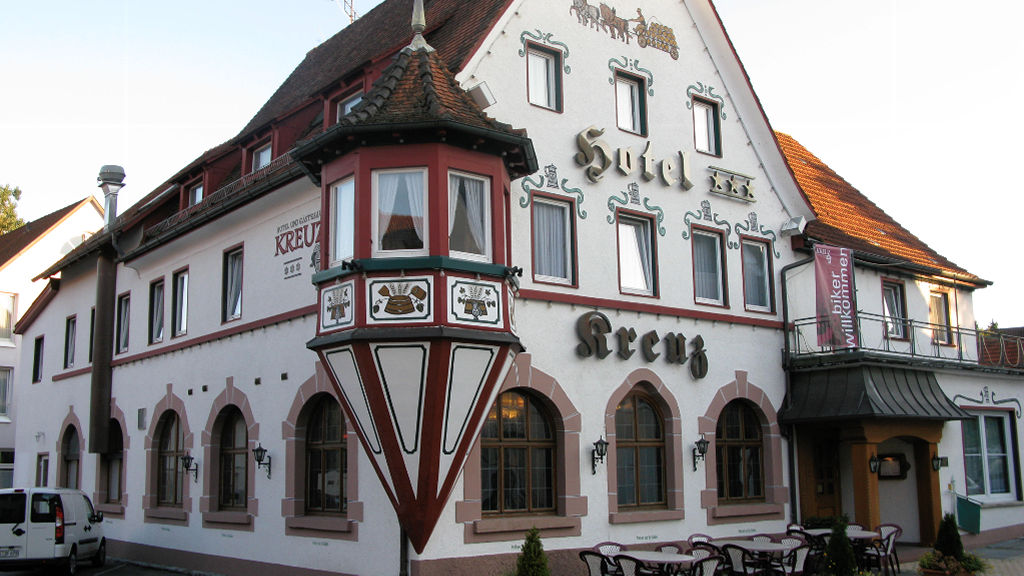 I have not taken the risk of booking ahead as I didn't know where I'd end up today. It can be risky on a Saturday night, but it worked out tonight.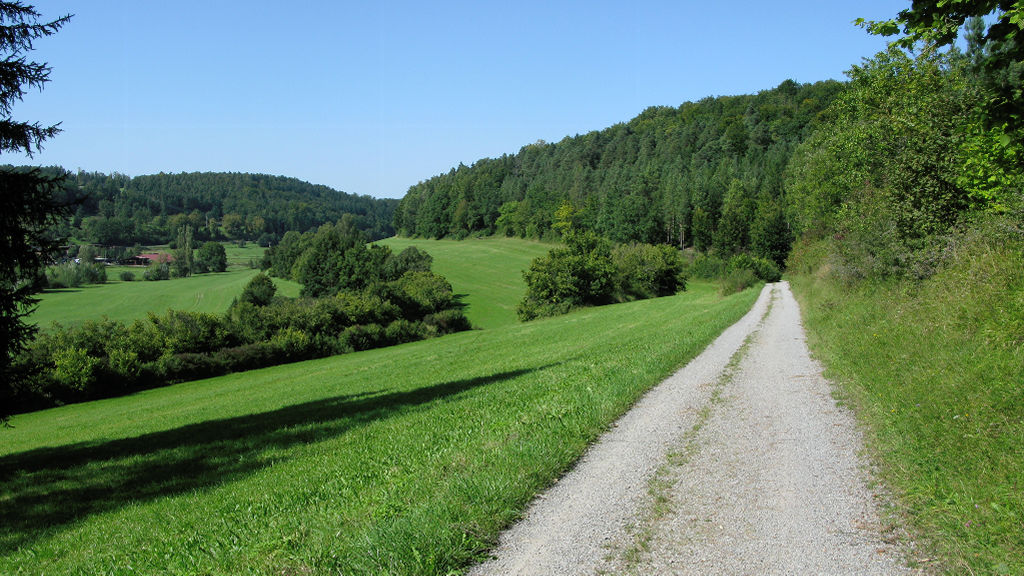 Today my strategy is to use the compass and constantly take N-NW options, trying to stay off-road. This turns out to be a good idea and I see a lot of beautiful peaceful places.
This is getting pleasantly remote from the type of main roads I was on yesterday.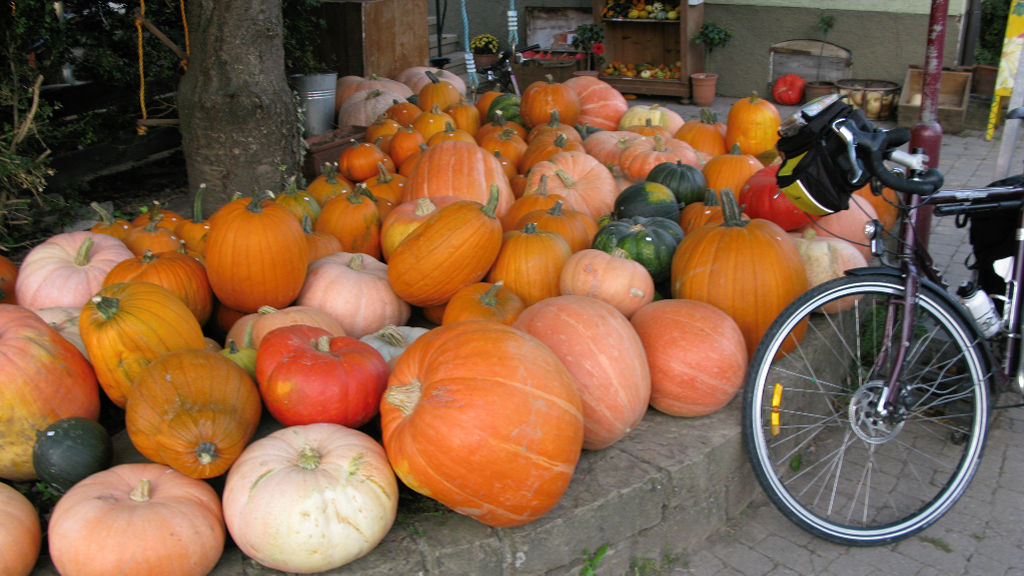 It is pumpkin season, obviously. I never know if people buy them or if they are just there as a visual treat. They sure are that.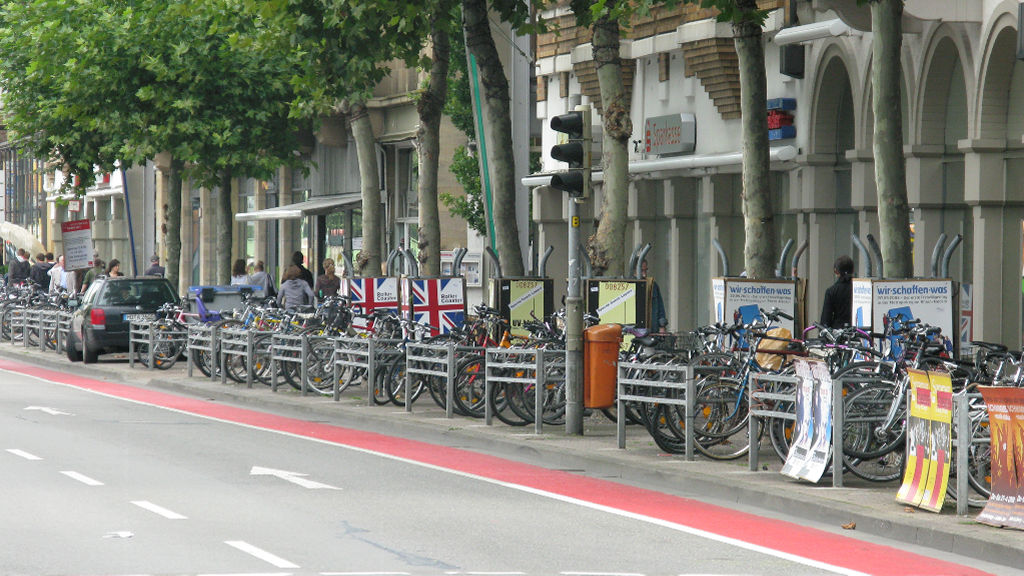 Central Heidelberg at midday. With major cities there is the option of using them as overnight stops or, alternatively, of setting up the days so you pass through during the day. The latter allows you to get a sense of the place as a working centre, with everyone going about their business.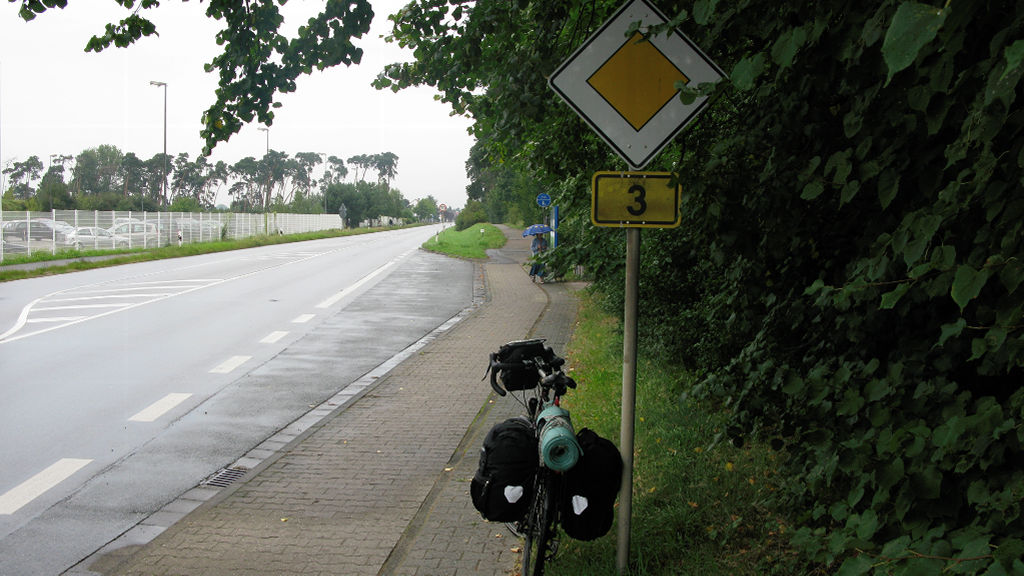 The European roads are marked as either yellow or blue. Yellow means we can ride there. Blue means it is not only for motorised vehicles above an engine size, but there are minimum speeds required.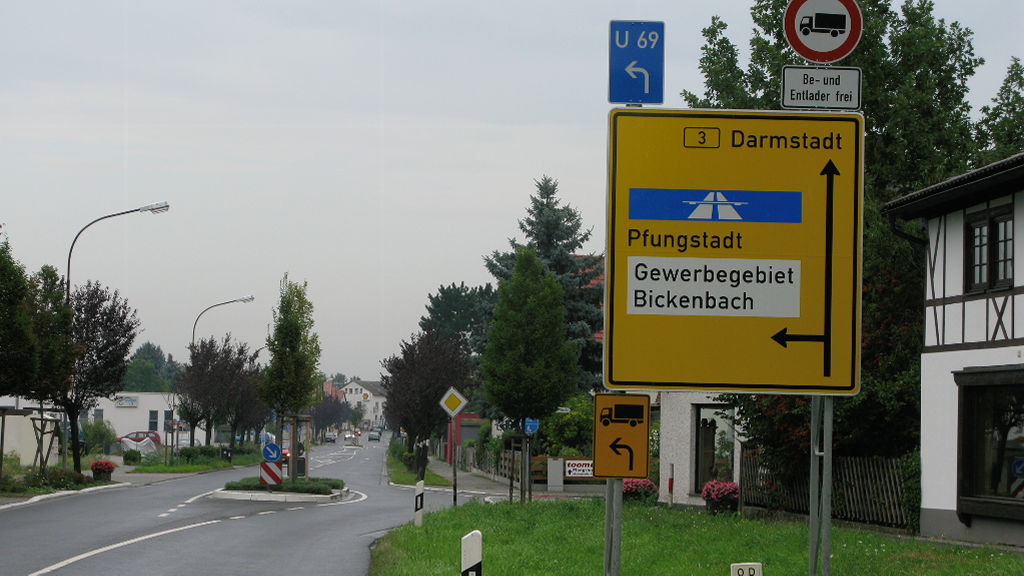 As I ride along I am looking at the compass plus the yellow and blue. A few years ago I accidentally got onto autobahns and the police arrived very fast. The good thing about riding the yellow roads compared to riding the bike paths is you can cover great distances without a lot of stopping.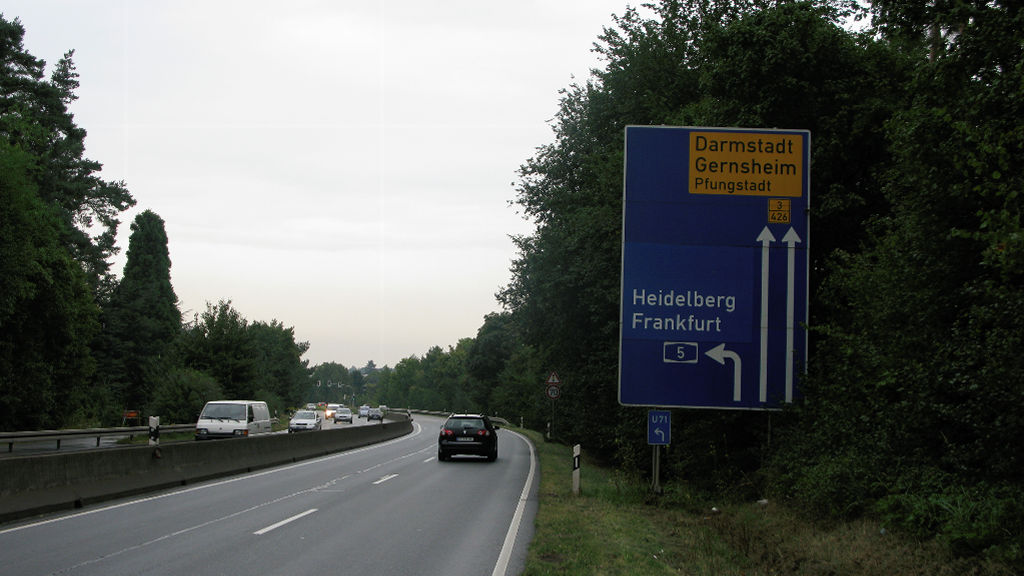 There is a scary amount of blue on this sign but straight ahead is OK on yellow. Notice there is no shoulder and I won't see any other bikes. However, my right to be here is respected and it is quite safe. A truck will slow to my speed rather than overtake unless it can get fully into the other lane.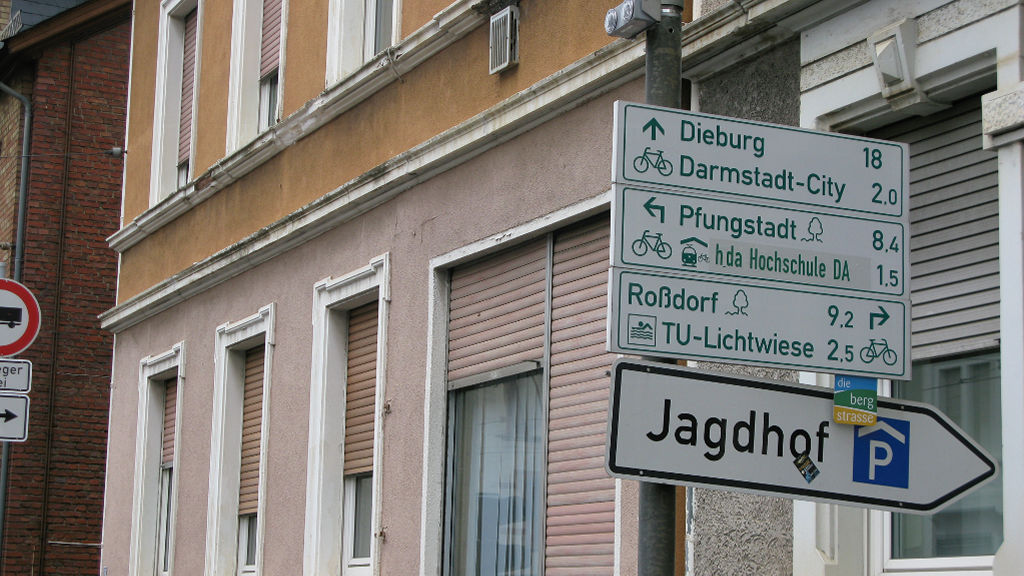 It has to be a very high-resolution map to show all these places. Bike paths along river valleys and canal routes are easy providing that is where you want to go.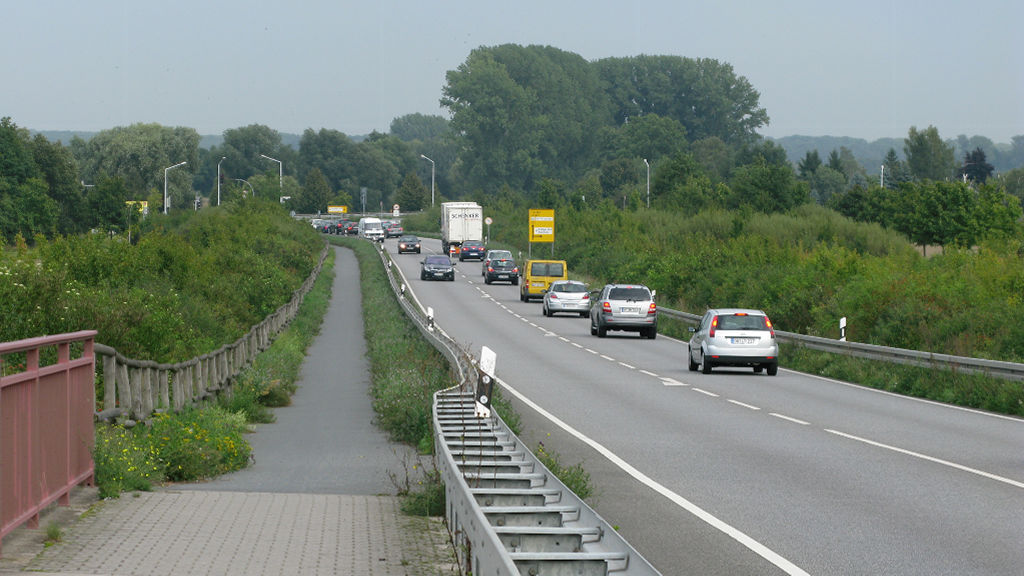 In several cases there is a bike path right beside the road and it would be mean to the drivers for me not to take it. Notice there is even a separate bridge crossing for bikes. That is typical.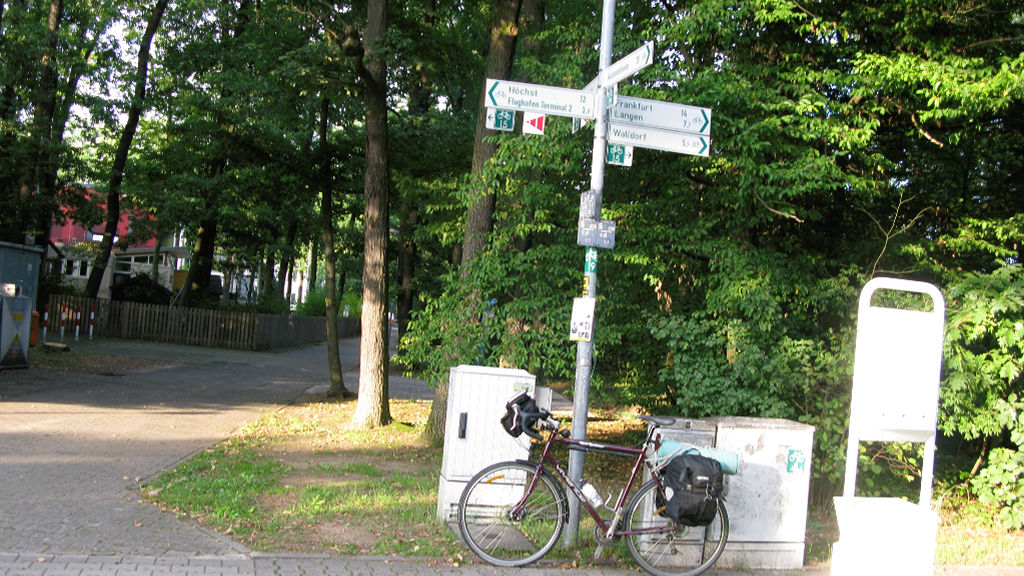 If you are trying to cover 100-150km a day these bike path signs can be puzzling. They are mostly signs to tiny nearby locales and villages. I use my compass but if there is a big river to cross this can take me away from a bridge. It is still fun, just further to go due to route errors.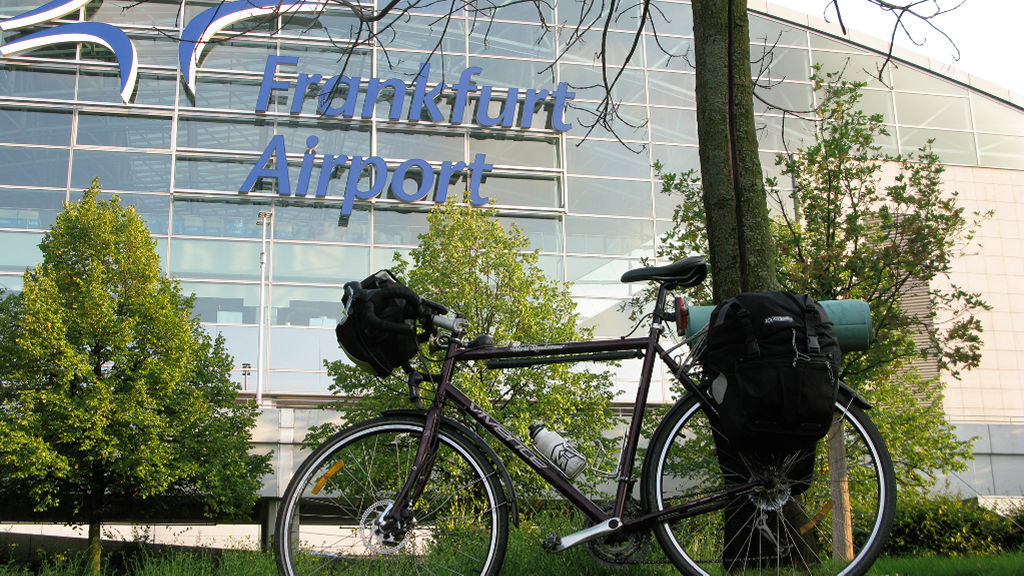 Within 30km of the airport I have been able to watch the planes and make my choices of paths in the forests to the south. Inside I am able to buy a bike carton, have a shower and relax.