We are out of stock of bikes. It could be late 2022 before we have stock. Many people need a bike sooner than that, but some might hang on if they know more about what we are preparing to make. That is what we want to address here.
Derailleur bikes are becoming harder to support
Over the last sixty years, touring bikes with derailleurs have run triple chainwheels. The middle front cog runs to a (not-super-wide) rear cassette. You get extra-high gears from the big front cog and extra-low gears from the small front cog. Chain alignment is good. If using derailleurs, it is the ideal set-up for this type of riding. Touring bikes need over 500% range and a triple is the best solution for that on a derailleur system.
But Shimano doesn't want to make the special left shift levers and front derailleurs for triples for this category. Every year their offering is reduced and now it is small. With touring bikes, things need to be long lasting. But eventually, we will want to be able to replace parts and not be confronted with availability or compatibility problems. Recently, a customer with a six-month-old Deccan had an accident and replacement shift levers could not be found in Australia. We don't think it was because of Covid. The support was not there. We already had to stop making our model (Patagonia) with bar-end shifters due to Shimano no longer making the levers.
There is an alternative brand called Microshift but we would have to go through a year of testing and, already, unprompted shop reports on this brand are not so good
Over the last eight years we have sold more Rohloff (internal rear hub gear) bikes. For us it is purely about what's best on a long ride. Through our own rides and through customer feedback we know Rohloff to be stable and to work well. Parts and service are readily available here in Australia and, typically, around the world. The Rohloff hub itself has not changed in over 20 years.
Alongside this, in derailleur bike component offerings, obsolescence through frequent model change has become the norm. The makers do not seem to worry about durability very much. They will change the fashion and quite likely will be offering something different by the time the drive system wears out. This does not fit well with our mission which is to make durable and long-lasting bikes, that can be maintained.
Derailleur systems cost far less than Rohloff systems. But the Rohloff price is fair when you look at how long things last. You are just paying upfront for something that lasts much longer. A Gates belt will outlast about six chains. The Rohloff hub itself is good for more than 100,000km. There are many other advantages, but on durability alone, the higher price seems justified. So, our hearts are not in making more derailleur bikes now and we are asking for your understanding. We are quitting, at least for the next few years, making Anatolia and Deccan. If these products were superior, we would need to keep making them. But, alongside our Rohloff models, which are the same except for the transmission system, they are not superior. Just half the price!
Expanded Rohloff range
Over recent years we have been asked "what's the widest tyre I can fit on the bike, preferably whilst keeping the mudguards?".
This is because there is a great interest in what we call off-road touring. A great interest in getting away from the cars.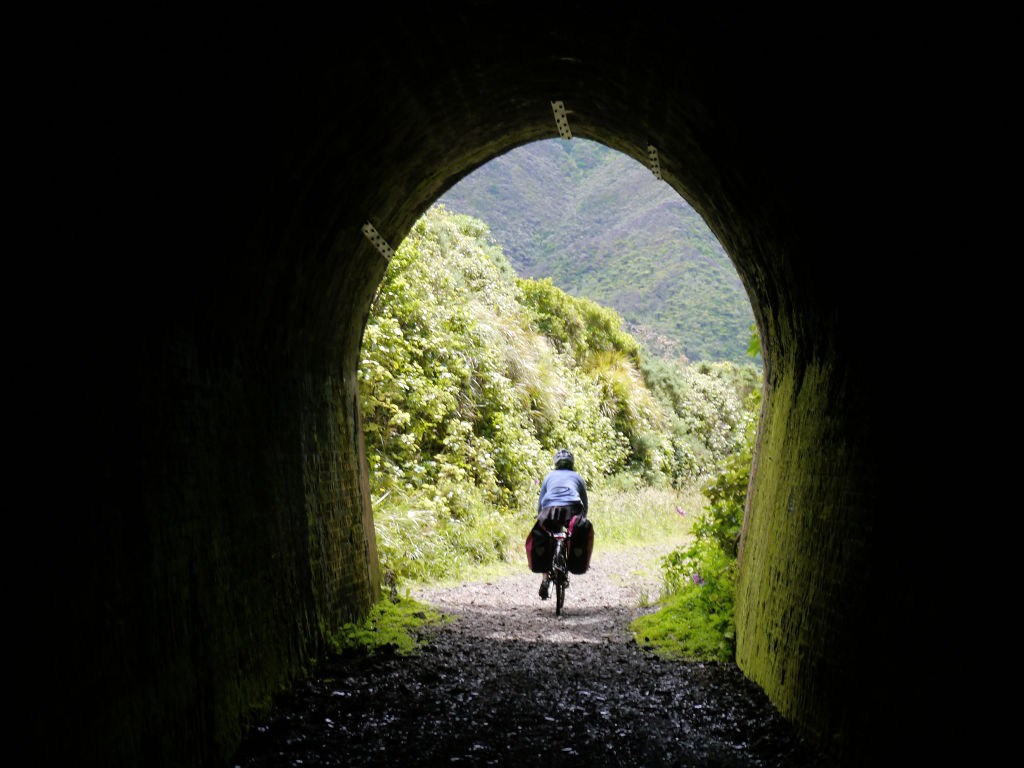 You can go many places on what is technically a road-tourer (40mm tyres), but some people are looking for a genuine touring bike with the wider tyres of a mountain ike. They seem focused on tyres in the 2.0" to 2.75" range.

Off-road touring still requires luggage carrying. In remote places, durability and not being susceptible to a simple thing like a stick wrecking the gear system, come to the fore.
There are numerous similar incidents recorded in the notebooks at the huts on the Munda Biddi. People riding off-road on bikes with obvious vulnerabilities (despite them being sold as off-road bikes).
An off-road tourer needs a frame that is long enough at the rear for a rack and to still have heel clearance. Anyone going a distance would not want to overload the front of the bike to the detriment of the steering. Or ride with a backpack. Yet, that is what often happens if a bike does not have enough carrying capacity.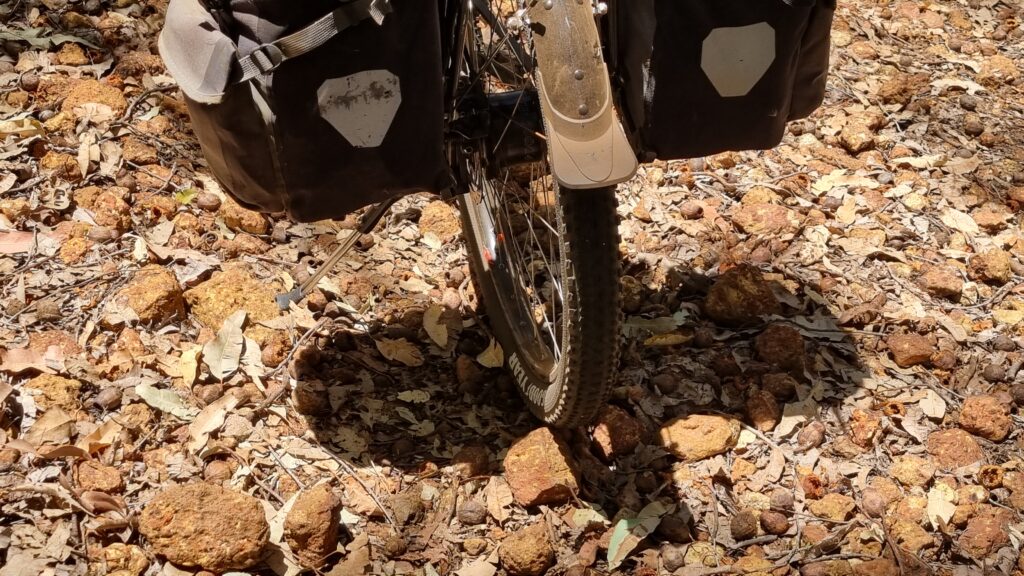 People also want a dynamo lighting system and a way of storing their power for recharging the navigation gadget. Most people also wanted
fenders (mudguards).
Putting all this together we have been out testing a 2.25" wide tyre and guard version of Vivente. We did the Munda Biddi ride in WA in December. That's off road.
This month we caught the train to Bathurst and
did a more on-road ride 900km in Central
West NSW.
Seeing what its like to be on the road on these wide tyres. We took a 700C x 40mm tyre on-road bike and a 650B x 2.25" off-road bike to evaluate more about how they each feel in on and off-road situations.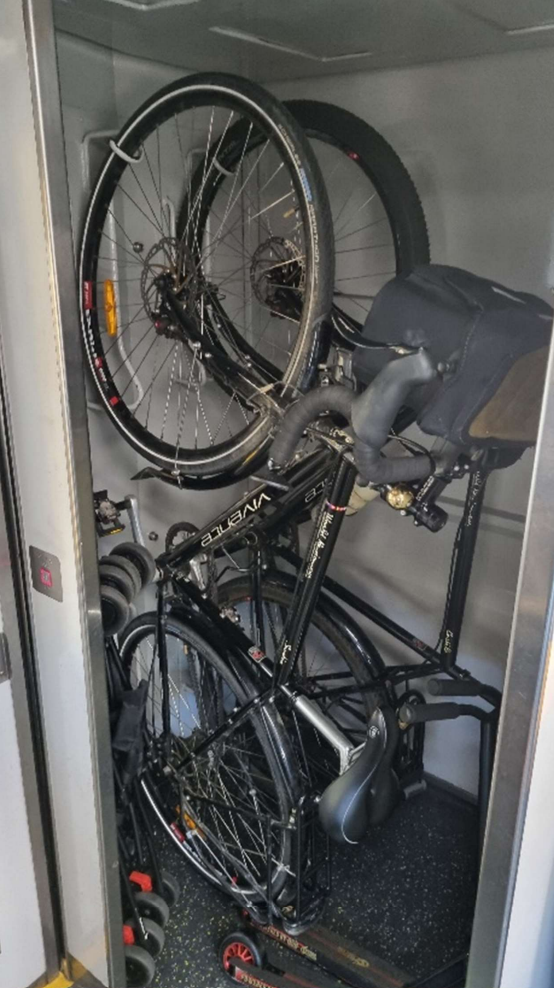 Made in Australia
Much of the reason we are out of stock of bikes is that the overseas assembly system we have been dependent upon became swamped by enormous growth in the e-bike sector. The assemblers couldn't cope,
and it is just getting worse.
Fortuitously, we are able to make the bikes here in Tasmania where we own land. We are building a facility to accommodate complete bike assembly. Components have started to arrive. This is a long-term solution to the availability challenge that has always been there.
It was only after making this decision that some extra advantages in this approach become clear. Although we won't be "custom building" the bikes, we will be building them individually. This will allow us to offer
optional differences such as normal touring gear ratio levels or a 20% lower gear level. It's just a matter of using different cogs in assembly so there will be no up-charge.
The "Made in Australia" designation ties in with Free Trade Agreements (FTA) between Australia and several countries including the USA. If a bike was assembled in Asia, imported into Australia and reexported to
Great Britain or the USA, it attracted an import duty in the final country. The USA import duty on a bike that was assembled in Taiwan is 11%. But if it is Made in Australia and there is an FTA, it is duty free.
Continuing to tinker and test
The more touring that we do, the more we perfect the bikes. There are many examples. That is how the bikes earned their reputation, and the process is not stopping. When you are riding day after day, you don't
ever want a big drama with your equipment and its best if there are no little ones either.
Our December 2021 test ride was the 1,050km off-road Munda Biddi Trail in Western Australia. January 2021 we went back to into Central NSW for a mixed on and off-road tour. In the northern summer we have planned a Milan to Brussels (via Switzerland) tour and a Chicago to Minneapolis (via Appleton) tour.
Returning on Amtrak to Chicago. There is also a plan to do a loop in the islands in Hiroshima Bay. Bike carton availability in Japan is a problem so it will be a loop ride back to our cartons.
Staying in touch and maintaining the website
We assume you are like us and do NOT like being smashed with emails that you need to unsubscribe from. During 2022 we will send just a few updated newsletters. These can address FAQs. We do have your contact details. Just let us know if you want to be left off, otherwise you'll get them.
Meanwhile, we'll use the website and newsletters to update product info and present some new discussions, such as luggage carrying on touring/travel bikes. Once we decide how to manage pre-orders, that will also be advised.