We are in the process of setting up Vivente bicycle assembly in Tasmania and expect to be producing six Rohloff models from the end of 2022. We will use newsletters to provide advance details about the bikes and how they may be purchased. Our Australian–New Zealand dealer networks are viewable on the website.
Whilst waiting for components to arrive, we have continued road-testing and refining. The bikes were already well regarded, and we do not make changes lightly.
The simple fact that we will be building the bikes here, one at a time, as distinct from mass-producing, is allowing us to offer choices you would not normally have. There have also been some important technical developments over the last few years. And there have been trends in bike travel, including off-road travel.
Tyre width
Option of 40mm or 57mm
On-road tourers with luggage generally use tyres of around 38-42mm in width. To people that wanted to head off-road, we used to say they could fit wider tyres on the same rims. But that lifted the bike up, it changed the tyre circumference which also changed the gear ratios. It sometimes also meant taking off the mudguards.
If you just wanted wider tyres you would not want these side-effects. So, we designed a bike with slightly smaller diameter rims (650B), where the tyres are wide (2-1/4") but the final wheel diameter is the same as 700Cx40mm). We fitted wider profile mudguards and then rode the 1,200km off-road Munda Biddi ride to try it out. It was a great success. Indeed, in the dry time of year, you could not ride the length of that trail on 40mm tyres. You'd be walking a lot, mainly because of the pea-gravel.
As with our gear-ratio testing (see below) we left the fatter tyres on, for an on-road tour. Fatter tyres are not so good on tar. There is a bit too much contact. Steering is more work as you push harder to steer away from the tyre's connection to the surface.
In addition to The Gibb, Stirling and Swabia, we will now offer three Rohloff models with 2-1/4" (57mm) tyres and wider mudguards. The principal difference within each group will be the handlebars. Bike prices are not affected by the choice of tyres width. We can offer the choice because we are making the bikes one at a time to fill individual orders.
Lights
Upgrade to 100 lux
Vivente has been using 40-50 lux headlights for years. This has partly to save some power for smartphone recharging, a technology which we have been working on. But the need bicycle travellers have to find power for their gadgets has been effectively solved by "fast-charging". If you have bought a new phone in the last few years, you'll know about it. If you have not discovered it yet, please follow the link above to find out more. This is behind our decision to abandon trying to save power from the dynamo hub for smartphone charging and go for the best headlight available.
We tested the B&M IQ-X on rides in Europe and in the USA this year. It is an exceptional light. Valued at A$250 it is now our standard headlight specification.
Gear Ratios
The "normal low-option" and a new "extra-low option".
Travel bikes need a low gear but how low? It's not the same number for everyone. There's a difference between super-strong 40-year-olds and folks in their 70s (or even 60s with possibly developing knee or hip issues). There's a difference between, on one hand, having rear panniers and a handlebar bag, riding flattish rail trails and staying in rentals and, on the other hand, carrying full-camping gear in front and rear bags and crossing the Andes, the Alps or the Great Divide.
To address this we are now offering, at no price difference, "normal" with a low gear of 20.5" (50-19T) and "low" with a low gear of 15.5" (46-22T). (For the latter you must be under 100kg to be covered by the Rohloff warranty.)
We road-tested this low set-up on the Munda Biddi ride where it made a big difference. But we then left the 46-22 sprockets on the bike for an on-road tour in central NSW where we found it was unnecessarily low. You will be able to buy the extra sprockets and switch between the two gear sets. The same belt (120T) is used in both of the set-ups so that only the sprockets would need to be changed.
Flat handlebars
Introduction of shock absorption in a handlebar.
Bars are a personal preference, to some extent, dependent on ride conditions. We used drop bars on the off-road Munda Biddi ride and also road-tested a suspension handlebar stem due to the many rocks and tree roots. The drop bars were a bit too narrow for so much steering on the rough trail. But the proto-type suspension stem made a big difference. The other bikes we passed on the ride had suspension forks. Nerve damage would likely happen without some way of reducing the jarring. Lower pressure (wider) tyres helped too of course.
Whilst the suspension stem did what it was intended to do, it was not only soft on a bump (flexibility downwards) but also soft when pulling up such as when climbing a steep hill. This was a bit unnerving. And the stem was a bit heavy.
A French company, Baramind, has made a bar, to manage both up and down deformation. Using "Hybrid Advanced Composite" they created flexibility downwards to absorb shocks but locking upwards to maintain good control in climbing and steering.
The bar uses injected polymer composed of 2/3 carbon fiber and 1/3 fiberglass. The reviews are complimentary although mostly in French, Dutch and German at this time. It is already an option on top-end west European travel bikes. We inspected at the Brussels Santos dealer and report that it does what the maker says.
On the new generation of Vivente Bikes will have a choice between a classic (rigid) 150 swept-back bar or the BAM TREK bar with shock absorption for an upcharge of $120. Check out their website.
These bars are interchangeable without needing different brake hose lengths.
Spokes
Back to 36-spoked wheels
We have decided to return to 36 spoked wheels. This is because some, not many, people want their bike to carry over 130kg (including themselves). And why not? If that's what they want to do. With the co-moly double butted frame and plain-gauge forks we are now able to rate the bikes to carry 150kg. We do point out it is important to not hit bumps too hard and to get your bum off the seat for bigger bumps. But, this is a load-carrying bike for sure.
Rims are also slightly more robust with a 24mm internal width and weight (in 700C) of 655 grams. These are very strong wheels.

Saddles
Brooks B17 leather saddle option
It is often said that the best touring saddle is a leather one that has adjusted individually to you. They need to be protected from rain but to some, it is worth it to get that best level of comfort. However, leather saddles are hard when new and the wearing in may take a long time. So, it remains a personal choice. Meanwhile our standard gel saddle with a cut-out is very highly regarded. We are happy to ride on the VWR saddle.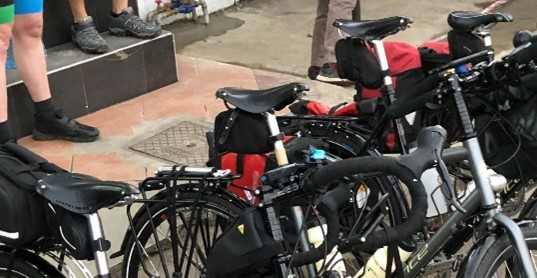 What pushed us into providing Brooks B17s as an option though was a photo we saw of four guys and their Viventes outside a shop in Tanzania. Three of them had Brooks saddles!
This option is offered in a choice of three colours at an upcharge of about A$170 including local tax. Delivery is going to be delayed until mid-2023.
In the next newsletter
In our next newsletter we will talk about the ordering process.
You may already be aware that we are not going to produce derailleur version (Anatolia/Deccan).
Over coming months we will update the Vivente website. What's there in August 2022, including bike prices, is two years old. We expect Rohloff bike prices that were under AU$5,000 to be now over AU$6,000 (including 10% gst).
Vivente Bike Traveller YouTube video
We love to receive videos of your experiences and hope you send them to us so we can share them. Today please enjoy…Vivente Swabia (Lucy) En Paraguay II – 50 Fotografías
Best Regards,
Noel McFarlane